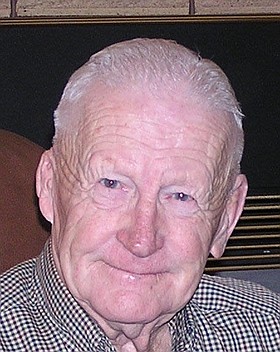 Marion Harold Vanderwall
Grangeville, Idaho
unknown - unknown

Marion Harold Vanderwall, 92, of Grangeville, passed away on Saturday, Dec. 6, 2014, at his farm home in Grangeville. He was born March 22, 1922, in Granger, Wash., to John and Alice Vanderwall. He attended country schools in the Grangeville area. His older sister, Cora, was his eighth grade teacher.
He married Gertrude Otter on Nov. 1, 1946, in Lynden, Wash. They moved to the farm in the Fairview area after their marriage where they raised three children. He lived there until his passing.
Marion was very active in the community, serving in various capacities on the Grangeville Chamber of Commerce, including being the first farmer to be named president. He was a trustee of the first Syringa Hospital District Board of Trustees, served multiple terms as a trustee of the Grangeville School District, and was a Grangeville Highway District road commissioner.
He enjoyed the sport of bowling into his early 80s and was the first person to bowl a 700 series in the Grangeville area. He looked forward to morning and afternoon coffee in town with the boys and loved to play cribbage. Marion was fond of travelling to warmer climates, and he and Gert enjoyed many trips until their health declined.
Marion loved farming just like his father. He remained very active on the farm until the age of 67. He took great pride in his chosen profession and new technologies in farming continued to fascinate him. After retiring from farming, his lawn and vegetable garden reflected that same pride.
Marion was preceded in death by his wife, Gert, in Nov. 2009; son, Terry in January 2008; daughter-in-law, Mary in January 2003; his parents; and brothers, Henry, Martin, John; and sister, Cora Pratt.
Survivors include son, Randy (Jean) of Grangeville; daughter, Kristi (Jake) Jacobsen of Missoula, Mont.; grandsons, Mark (Jessica) Vanderwall of Grangeville and Jason (Joanna) Vanderwall of Lolo, Mont.; great-grandchildren Jacob, Bailey and Addisyn of Grangeville and Beniah, Caleb and Joel of Lolo, Mont.; step-grandchildren Sandi (Mike) Sandry, Kim (Courtney) Herzog, Stacie (Travis) Cline, and their children, all from Montana; and his sister, Milly Likkel of Lynden, Wash.
Services will be held on Thursday, Dec. 11, at 11 a.m., at the Grangeville Christian Church with Reverend Harold Gott officiating. Burial will follow at Fairview Cemetery near Grangeville and a light lunch will be served at the church following the burial. A viewing will be held on Wednesday, Dec. 10, from 4-7 p.m. at the Blackmer Funeral Home in Grangeville.
The family suggests memorials to the Grangeville Christian Church, 402 W. South 1st Street, or to Syringa Hospital Hospice, 722 W. North St. Send condolences for the family to Blackmerfuneralhome.com.
The family would like to extend a special thank you to Lorna Hitchcock, Cindi Crumm, Linda Ray, Margretta Fortin, Anita Lucas, Connie Pagel and Gerry Hayes for the loving care they provided Marion for many years until his passing.