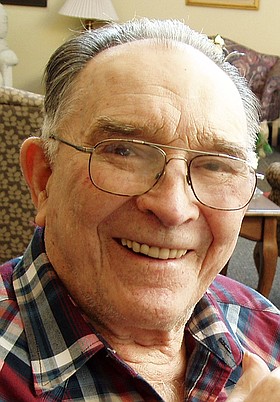 Delmer Francis Rad
Lewiston, Idaho
unknown - unknown

Delmer Francis Rad, 93, died early Thursday morning on Dec. 11, 2014, at the Royal Plaza Care Center. He was born Feb. 11, 1921, at Cottonwood to Leo and Mary Rad. He married pretty Ethel Gehring Feb. 25, 1946, in Keuterville, while on furlough from the Army. He was drafted into the Army in 1945 and served at Ft. Lewis in Washington, Camp Roberts in California, Ft. Ord in California, Camp Kilmer in New Jersey, and Ft. Douglas in Utah.
Mr. Rad worked a dairy and ranched at Cottonwood until 1964 when he and Ethel moved to Culdesac. He continued his dairy there until he retired and they moved to Lewiston in 1993. Mr. Rad's ranching included raising sheep, registered Angus cattle, hogs, chickens, geese and rabbits. During retirement with Ethel, he enjoyed gardening, and raising sheep and rabbits. Delmer Rad, Ed Funk, Bud Funk and Tony Schumacher established the first mechanized dairies on the Camas Prairie. Delmer was the first to install a bulk tank storage facility to his operation. Mr. Rad was an active member of the Dairyman's Association. He held offices of president and director in this organization. During his working career, he also operated a rock crusher and a shingle mill to augment ranching needs. He was an active Catholic parishioner; he belonged to the Knights of Columbus.
Mr. Rad was preceded in death by his parents, and his sister, Bertha Toennis; and two brothers-in-law, Bob Zehner and Ray Sager. He is survived by two daughters, Marlene (Mrs. Thomas O'Neill) and Sheryl (Mrs. John Stillwell); three sons, Randy (JoAnn), Don (Pam) and Ed Rad; two sisters, Loretta Zehner and Eileen Sager; and one brother, Albert (wife, Clarice); seven grandchildren, 12 great-grandchildren and two great-great-grandchildren.
Many thanks to friends and family who visited him, and to the caring people at the Royal Plaza. Delmer was good at being an old, old man. He patiently endured the hardships of age. He gratefully, graciously lived and welcomed all who came in contact with him. Delmer put together a record-breaking number of picture puzzles at the Royal Plaza. He will be missed and fondly remembered.
Services were held Dec. 13 in Lewiston.