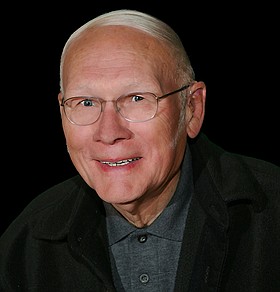 Avon Darrell Merrell
Weiser, Idaho
unknown - unknown

Avon Darrell Merrell, 92, of Weiser, Idaho, passed away and was reunited with the love of his life, Rachel, on Dec. 19, 2014, at Pioneer Place in Vale, Ore., of causes incident to age and Parkinson's disease.
Avon was born in Carey, Idaho, on Sept. 25, 1922, to Joseph Merrell and Sarah Delilia Brown. The family farmed until Avon was 3, when his family moved into a home in Ontario, Ore. Avon's childhood was full of adventures and wonderful experiences. He attended May Roberts Elementary School, Ontario Middle School, and graduated from Ontario High School in 1941.
After graduation, Avon supported his parents working in Oregon and eventually Vallejo, Calif., where he worked in the shipyard until he was drafted into the Army on Dec. 23, 1942. He was assigned to the 469th AA Automatic Weapons Battalion. While returning by train from basic training in North Carolina, Avon met his bride, Rachel Hidy, traveling from her home in Nebraska to work as a nurse. They were engaged before the train arrived at their destination. Rachel agreed to wait for him until after the war. Avon soon sailed to the South Pacific. His battalion fought with the Marines and infantry providing anti-aircraft protection for airstrips on the islands of New Britain and Papua New Guinea, as well as the islands of Leyte and Luzon in the Philippines. He was on Palo Beach, Leyte Island, and less than 20 feet away as General Douglas Macarthur "returned" to the Philippines in October of 1944. Avon received his honorable discharge on Dec. 24, 1945, arriving home in the afternoon on Christmas day.
Avon and Rachel were married on Feb. 8, 1946, in Caldwell, Idaho. They soon moved to Logan where Avon began his university studies. He graduated from Utah State with a Bachelor of Science degree in industrial education, with a minor in radio engineering. After graduation, Avon worked in Idaho, Oregon, Nebraska and Illinois until the fall of 1954 when he began teaching industrial arts and math at Riggins High School in Riggins, Idaho. Avon helped establish and was the first president of the Riggins Branch of the Church of Jesus Christ of Latter Day Saints. Avon and Rachel were sealed to each other for eternity in the Idaho Falls LDS Temple on June 23, 1955. In 1960 Avon, Rachel and their children moved from Riggins to Weiser, Idaho, where Avon taught industrial arts and math at Weiser Junior High until his retirement in 1984. He also taught driver education for many years following his full retirement from education.
Throughout Avon's life he enjoyed working, building and repairing anything/everything to help others and make their lives better. He dearly loved teaching woodworking, leatherwork, plastics, drafting, math and driver's education. That which he loved the most was chess — playing the young men who visited him in Vale even until earlier this year. He loved helping his students not only achieve in his classes, but helping them succeed in life. Avon was heavily involved in many capacities with the Boy Scouts of America for many decades. He loved singing in choirs of all types, and spending time hiking, fishing and hunting with his family. His children know him as a father who could fix anything that was broken and make anything that worked, work better.
He continuously served in the Church of Jesus Christ of Latter Day Saints throughout his life as a branch president, stake missionary, chorister, scoutmaster, Sunday school teacher and president, librarian, and a faithful home teacher. He did all he could to serve and help others until Parkinson's took his mobility.
Avon was a passionate patriot and he helped make the "greatest generation" what it became.
He and Rachel loved to visit children and grandchildren in Canada and the United States.
Avon is survived by his daughter, Connie Ussing, (John, deceased) Vale, Oregon; and sons, David (Nanette) Mountain Green, Utah; Douglas, Ontario, Ore.; and Lynn (Linda) Edmonton, Alberta. He has missed his dear wife, Rachel, since her passing on June 3, 2001, in Weiser, Idaho. Avon has 14 grandchildren, and 29 (30 in April, 2015) great-grandchildren. Avon was preceded in death not only by Rachel, but also by his parents, Joseph and Delilia Merrell, and all of his siblings, Erma, Vilda, Mary Afton, Silas, Joseph Dean, Lorna and Baby.
A visitation was held Sunday, Dec. 21, at Thomason Funeral Home. Avon's funeral services were held at the LDS Church in Weiser, Idaho, located at 300 East Main Street on Monday, Dec. 22. A graveside dedicatory prayer service was held after the funeral at the Hillcrest Cemetery, East Indianhead Road, Weiser. Arrangements were under the direction of Thomason Funeral Home. Condolences may be sent to the family at www.lienkaemper-thomason.com.