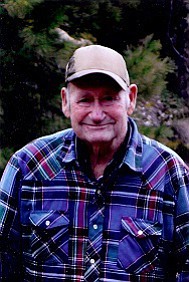 Neal DeWitt
White Bird, Idaho
unknown - unknown

Neal DeWitt, 80, died Dec. 19, 2014, at his home in White Bird, Idaho. He was born Aug. 19, 1934, in Buhl, Idaho. He went to school there and then married Evelyn Wilson Atwood on Dec. 16, 1955. They were married 59 years and three days. They had three children and lived in Buhl where Neal worked at a grain growers company. While he was there he and a friend designed and built a post and pole peeler.
They moved to La Grande, Ore., up in the mountains, and lived in a tent for a couple of years where they cut post and poles and sold them in Nevada. They ended up selling the post and pole peeler and later a guy named Mobark used Neal's ideas and patented it. Then they started their own logging company and did that for a few years until they moved to the Riggins, Idaho, area in 1971 and logged there for a few years and then moved to White Bird in 1985 and started the post and pole business again. They sold that in 1989 when his health started going bad. Through the next few years they designed and built three beautiful homes and the Swiftwater RV Park.
Many men said Neal was their best boss ever. He taught all three of his kids the logging business and two of them are still logging. He taught his oldest grandson, Chad, to run a Cat and a fork lift at age 12. He was very patient with teaching people how to work.
His best friend was his wife. Being with family was the best of times. He enjoyed the rivers and the camping whereever the family went and, of course, music. Always had to have the music playing or had Joaquin Lowe (son-in-law) or Charlie Weaver (friend) singing. They went to Arizona for 20 some years every winter with their four-wheelers. He made it a point to enjoy life.
He is survived by his wife Evelyn; their son, Marlin; and stepdaughters, Verna (Joaquin) Lowe and Bev Wilson; six grandchildren and nine greats; three sisters, Lyda Mills, Mickey Shank and Katherine Adams. He was preceded in death by his parents, Charles and Christine; two brothers, Phillip and Bill; two sisters, Dolly and Ruth; and a very dear friend, Gerald Benson.
Cremation has taken place. Arrangements are under the direction of the Blackmer Funeral Home, Grangeville. Send condolences to the family to Blackmerfuneralhome.com.