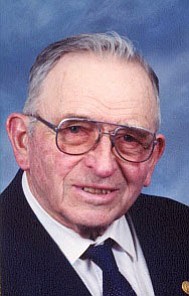 Raymond E. Johnston
Grangeville, Idaho
unknown - unknown

Raymond E. Johnston, 99, of Grangeville, Idaho, died Tuesday, Dec. 16, 2014, at Syringa Hospital in Grangeville with his loving family by his side.
He was born June 17, 1915, at the family home on the ranch west of Grangeville, to W. Evert and Ethel DeArmond Johnston. He was the fourth of five children. He graduated from Grangeville High School in 1933. He was the last surviving member of his graduating class. After graduation, Raymond attended school one additional year driving the horse and buggy so his younger sister, Rosebud, could attend high school.
After graduation, he bought the first of many parcels of farm ground, and he continued to farm his entire life. Through the years he added an extensive cattle operation and purchased the Bear Trap Ranch west of Elk City for summer pasture. The ranch also became a favorite destination for family gatherings and camping. One of the main joys in his life was old-time dancing, especially the waltz. He also enjoyed hunting, four-wheeler riding, fishing, caring for his cattle, and spending time with family.
Raymond met Winifred K. Nuxoll at a wedding dance in Cottonwood in 1952, and they were married at St. Anthony's Catholic Church in Greencreek on June 29, 1955. To this union were born six children.
Surviving Raymond are his wife, Winifred at the family home in Grangeville; Judy Elliot (Bill Stone) of Grangeville; Joanne (Melvin) Teats of Kooskia; Donna (Mike) Deal of Pomeroy, Wash.; Jerry (Peg Gehring) Johnston of Grangeville; Janet O'Brien of Aberdeen, Idaho; John (Candace) Johnston of Grangeville; 18 grandchildren, Jeff and Chris Elliot, Alan, Aaron, Kristi (Rallu), Nathan, Kevin and Kara Teats, Brenda (Bye) and Brian Deal, Maria, Daniel and Eric Johnston, Russell, Kylie (Ropp), Autumn and Klae O'Brien, and Megan Johnston; eight great-grandchildren with two more due early this coming year, and his faithful canine companion, Penny.
Preceding Raymond in death were his parents; brothers, Harold (Pearl), Marion (Zelma); sister, Rosebud (Cliff) Barnett; a brother, John Dea, who passed away at age 4; and son-in-law and fishing buddy, George Elliot.
Viewing was Dec. 19 at Blackmer Funeral Home in Grangeville, and the service was Saturday, Dec. 20, at Sts. Peter and Paul Catholic Church in Grangeville. Burial followed at Prairie View Cemetery. In lieu of flowers, the family asks that memorials be made to Sts. Peter and Paul School. Send condolences to the family to Blackmerfuneralhome.com.