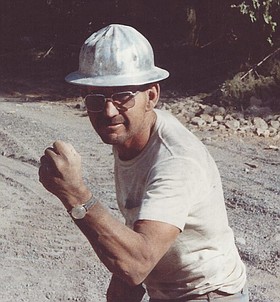 George E. Seubert
Cottonwood, Idaho
May 15, 1930 - December 27, 2014

George E Seubert, 84, passed away at his home on Dec. 27, 2014, in the loving care of his caregivers, Barbara Remacle and Penni Ochszner. George was born to A. George and Hilda (Tacke) Seubert on May 15, 1930, in Cottonwood, Idaho.
George went to work on a rock crusher shortly after serving in the Army. In May of 1956 George married Dorothy Wagner. They had seven children, George (Karma) Seubert, Mary Nuttman-Ackerman (deceased), Mike Seubert, Shawn (Jill) Seubert, Cara (Jack) Duman, Molly (Marv) Wimer and Todd (Rhonda) Seubert.
In 1966 George and his brother JP started their own crusher, SEI. As the years went by they built a successful business in the Northwest. George always enjoyed being at the crusher rather than being in the office. He loved mentoring the young employees that he hired based on their handshake. Some of these guys didn't start out on the straight and narrow, but were soon on their way because of the example he set. A lot of these men became lifelong employees and friends.
Dorothy died in 1970. A short time later George married Margaret (Stubbers) Enneking and brought into the family Denise (Mike) Nuxoll. George and Marge had two children, Pat (Angie) Seubert and Dianna (Adam) Merlino.
George enjoyed trapshooting through the years. Many of the local gun clubs were a little livelier because of George's presence. George had a great sense of humor as well as a stern set of ethics that he tried to pass on to his children.
George is survived by nine of his 10 children; 39 of his 41 grandchildren; and 26 great-grandchildren. Dad will be missed, but his butt-chewing won't be.
There will be a Rosary prayed at 10 a.m. and Mass to follow at 10:30 a.m., today, Dec 31, at St Mary's Catholic Church. Coffee and dessert reception will follow the burial. Uhlorn Funeral Home is in charge of arrangements.