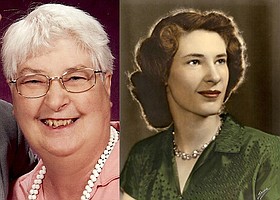 Louise Mae Hooper
Grangeville, Idaho
August 22, 1934 - December 29, 2014

Louise Mae Hooper, 80, of Grangeville, Idaho, passed away Monday, Dec. 29, 2014, at Syringa Hospital in Grangeville, Idaho.
Louise was born Aug. 22, 1934, to Frank and Alda Ruzicka in Grangeville, Idaho. She graduated from Grangeville High School in 1952. She married Richard Hooper that same year.
In 1954 they moved to Pendleton, Ore., and adopted four children. In 1965 the family moved back to Grangeville. She worked for Dr. Mingo, DDS, IGA Foods and the Grangeville Grange Supply.
In 2000, Richard and Louise moved to Florida where they lived for six years. They then moved to Oregon for six years. In May of 2012 they came back to Grangeville.
Louise loved anything outdoors. She loved to hunt, fish and go camping. She was a huge dog lover.
She was preceded in death by her parents and a sister.
Louise is survived by her husband, Richard of 62 years; sons, Steve (Chris) Hooper, Grangeville, Idaho, Joel (Kathy) Hooper, Gresham, Ore., Ward (Rachel) Hooper, Boise, Idaho; and daughter, Karen Hooper of Portland, Ore.; six grandchildren and two great-grandchildren.
A special thank you goes out to the Grangeville Health and Rehab for the great care they provided.
Services will be held Saturday, Jan. 3, at Sts. Peter and Paul Catholic Church. A Rosary will begin at 11 a.m. and Mass of Christian Burial will begin at 11:30 a.m. Burial will follow at Prairie View Cemetery. Arrangements are under the direction of the Blackmer Funeral Home, Grangeville. Send condolences to the family to Blackmerfuneralhome.com.