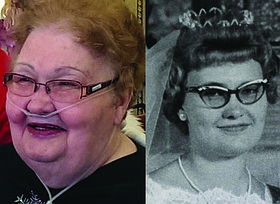 Margaret Catherine Seubert
Cottonwood, ID
November 27, 1942 - December 22, 2014
Margaret Catherine Seubert, 72, went to be with our Lord Monday, Dec. 22, 2014, at Royal Plaza in Lewiston, Idaho.
Margaret was born Nov. 27, 1942, to Joseph and Josephine Stubbers of Greencreek, Idaho. Margaret was one of six siblings. She graduated from high school in Greencreek. She later married Robert Enneking who passed away too soon. She then married George Seubert. She was a homemaker and helped raise 10 children. She loved sharing holidays with her family, especially Christmas. She was a strong woman and mother to put up with all of us. She had a special fondness for angels as she is now with them.
Margaret is survived by her loving siblings, Larry (Kathy) Stubbers, Ralph (Debbie) Stubbers, Irene (Elmer) Wessels, JoAnn (Dale) Baune and Doris Stubbers. Margret is also survived by her loving children, Denise (Mike) Nuxoll of Cottonwood, Pat (Angie) Seubert of Cheney, Wash., Dianna (Adam) Merlino of Denver, Colo.; stepchildren include, George (Karma) Seubert of Ellensburg, Wash., Mike Seubert of Princeton, Idaho, Shawn (Jill) Seubert of Cottonwood, Cara (Jack) Duman of Cottonwood, Molly (Marv) Wimer of Cottonwood, and Todd (Rhonda) Seubert of Yuma, Ariz.; along with 41 grandchildren, 26 great-grandchildren; as well as many nieces, nephews, friends, and extended family members.
She was preceded in death by her father and mother, Joe and Josephine Stubbers; her first husband, Robert Enneking; stepdaughter, Mary Ackerman; grandsons, Matthew Seubert and Joshua Wimer.
A memorial Mass and celebration of Margaret's life was held on Monday, Dec. 29, with a Rosary and funeral Mass at St. Mary's Catholic Church in Cottonwood with a graveside service at the Greencreek Cemetery.