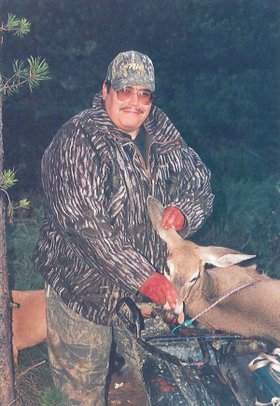 Jeff Pollan
Grangeville, Idaho
March 3, 1963 - February 4, 2014
Jeff Pollan, 50, of Grangeville, Idaho, passed away on Feb. 4, 2014, in Spokane, Wash. Jeff was born in Grangeville March 3, 1963, to Neuton and Alta Pollan. He lived his entire life in Mt. Idaho and Elk City. Jeff graduated from Grangeville High School in 1981 and married Sonya Seay in December, 1982. Jeff spent many years logging in the Grangeville and Elk City areas and later went to work at the Elk City Mill. He was proud of his native heritage and a member of the Nez Perce Tribe.
Jeff grew up in Mt. Idaho and spent his childhood hunting and fishing with his parents and grandparents. He became a master fisherman by the time he was 10 years old. He was an avid hunter and a crack shot. The happiest days of his life were spent camping in the mountains with his beloved dog, Lizzie. He loved passing on his outdoor skills to friends and family. He enjoyed hunting, fishing, gathering wood, gardening and tending his new chicken flock. Jeff loved being a grandpa and spent many hours caring for grandchildren and sharing his love of the outdoors.
Jeff was preceded in death by his parents and sister, Jill Pollan. He is survived by his wife, Sonya; and three sons, Wayne (Krystal), Ben (Lindsay) and Tim; sister, Leta (Ken) Strauss; and brother, Doug (Debbie) Pollan. He loved being grandpa to Reese, Peyton, Kaden, Melany and Karmain.
A celebration of Jeff's life will be held at 2 p.m. Saturday, Feb. 15, at the Mt. Idaho Baptist Church. A potluck will follow in the church hall.