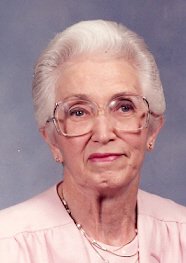 Bernice Mary Homer
November 30, 1925 - February 19, 2014
Bernice Mary Homer, 88
Lewiston, Idaho
Bernice Mary Homer, 88, passed away quietly in her sleep on Feb. 19, 2014. She was living at the Wedgwood Terrace Home in Lewiston, Idaho.
She was born Nov. 30, 1925, in North Dakota to Anthony and Eleanora (Kramer) Ackerman. She was raised in Grangeville, Idaho. She was married to Vern Schyvers of Grandview, Wash., until his death in 1971. She married Lloyd Homer from Grandview, Wash., some years later. Lloyd passed away in 1996.
Bernice is survived by one son, Mark McManus of Clarkston; three granddaughters; nine great-grandchildren and two great-great grandchildren; two sisters and three brothers, Marion Roderick of Spokane, Wash., and Louise Davis of Ellensburg Wash., Lloyd and Marvin Ackerman of Lewiston, Idaho, and Bill Ackerman of Mt. Shasta, Calif.
Bernice was preceded in death by her parents; her sister, Lucile (Ackerman) Kaschmitter; and her brothers, Richard and Frances Ackerman.
There will be a memorial Mass for Bernice at a later date. Send condolences to the family to Blackmerfuneralhome.com.