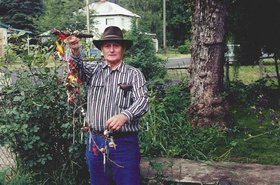 Ralph G. Wells
Kooskia, ID
January 8, 1933 - February 18, 2014

Ralph G. Wells, 81, passed away on Feb. 18, 2014, at Syringa Hospital in Grangeville, Idaho. He was born Jan. 8, 1933, on Battle Ridge near Stites, Idaho.
His parents were Earl C. Wells and Bessie C. (Gillespie) Wells. As a child he spent many years living in or near Cottonwood, Idaho. In 1956 he married Irene I. Blewett in the Border Days arena. They had three children, Mark C. Wells (deceased) of Fairbanks, Alaska; Deborah Wells of Lewiston, Idaho, and Cecilia Kirkland of Stites, Idaho.
He worked on the construction of Brownlee Dam and Highway 12. He bought a ranch on Tahoe Ridge near Kooskia, Idaho, and worked for Potlatch Forest Industries until his retirement. He enjoyed fishing and prospecting. In his later years he moved to his parents' place on the South Fork of the Clearwater River.
Three or four times a week he could be found in the Rivers Café in Kooskia enjoying breakfast and visiting. He was divorced in 1975 and was often seen with his best friend, Helen Glover.
Uhlorn Funeral Home will handle his cremation and no services are planned. His family will spread his ashes on the Tahoe ranch at a later date.