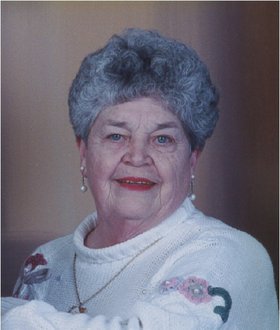 Alice Mildred Lehnhoff
Perryton, Texas
November 1, 1932 - July 4, 2014

Alice Mildred Lehnhoff, 81, of Perryton, Texas, formerly of Grangeville, Idaho, was born to Peter and Mildred (Shumway) Isder on Nov. 1, 1932, near Windom, Minn. Alice graduated from Brewster High School and later married the man of her dreams, Bruce Lehnhoff, in 1955. They made their home in Worthington, Minn., before moving to El Centro, Calif., in 1960. There they raised all four of their children before retiring to Grangeville in 1987.
Alice worked in grocery retail for most of her adult life. She loved quilting, gardening, outdoor activities, but mostly spending time with friends and family.
Alice passed away on July 4, 2014, in Perryton, Texas, at the age of 81. She was preceded in death by her parents.
Alice is survived by her husband, Bruce, of 59 years; four children, Barbara Williams and husband, Jim, of Hot Springs Village, Ark., Gerald Lehnhoff and wife, Sherrel, of Perryton, Texas, Shirley Howard and husband, Randy, of Perryton, Texas, and Curtis Lehnhoff and wife, Janet, of Riyadh, Saudi Arabia; three brothers, Kenneth Isder and wife, Arlene, of Little Falls, Minn., Robert Isder and wife, Joan, of Little Falls, Minn., and Arthur Isder and wife, Rosie, of Wheeling, Miss.; 11 grandchildren and eight great-grandchildren.
Visitation was Monday, July 7, at Good Samaritan Chapel of Perryton, Texas.
In lieu of flowers the family requests that memorial donations be made in honor of Alice to Senior Village of Perryton at 3101 South Main Street, Perryton, Texas 79005 or a charity of your choice.
Condolences may be made on-line at www.goodsamaritanfuneral.com.