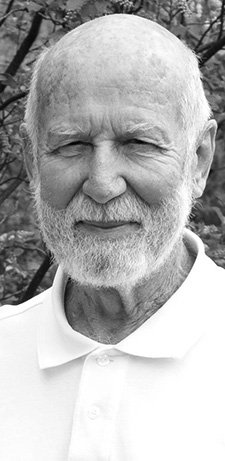 Ernest William Jennings
April 20, 1933 - July 11, 2014
Ernest William Jennings, 81, was born April 20, 193.3 in Sacramento, Calif. He died on July 11, 2014, in Cottonwood, Idaho. He was born to Ervin and Alice (Groff) Jennings, the youngest of four children.
He grew up in Fresno, Calif., attending local schools through his junior year, and graduated from Hesston Academy, Kansas in 195l. He attended Fresno State College, Goshen College and graduated from Eastern Michigan State College in 1957 with a B.S. degree in Elementary Education. He received a M.A. degree in School Administration and Counseling from Los Angeles State College in 1961. For four years he worked as a hospital attendant at the University of Michigan Medical Center in Ann Arbor while he completed college at Eastern.
While attending Goshen College, he met Mary Bontrager of St. Johns, Mich. They were married Aug. 15, 1954. They were best friends for nearly 60 years, enjoying life's adventures together.
His first teaching job was in Rialto, Calif., from 1957-1961. He then taught in Lake Arrowhead, Calif., from 1961-1979. After moving to Idaho in 1979, he taught third grade at Prairie Elementary School in Cottonwood until retirement in 1995. During his career he also worked as a teaching vice principal, and he enjoyed being a master teacher for student teachers. After retirement he enjoyed keeping track of former students and taking cake or carrots to share with school staff.
Ernie became part of the three communities he lived in through activities like: volunteer fire department, the Jaycees, various church committees, water board, hospital board, community choirs, male quartets and the local Democratic Party.
Those who knew Ernie understood that a good day included something to do with firewood - growing new trees, getting firewood, chopping it, burning it and sharing it. For a few years in Lake Arrowhead, it included owning and running a sawmill in his spare time.
After retirement, Ernie continued to stay involved with people in the community. He loved tinkering in his shop – and became best known for making wind gongs. The friendships that came from the Hayseeds quartet were precious. Golf was always better with a friend. Ernie and Mary loved traveling and camping across the United States, hiking and later four wheeling together in the local back country.
Ernie is survived by his wife, Mary, of almost 60 years; his son, Doug (Karen) in Utah; daughters, Donna (Mike) Ostrowski in California and Sue (Steve) Dalbey in Montana; seven grandchildren and five great-grandchildren; a sister, Ellen (Paul) Davidhizar; and many nieces and nephews. He was preceded in death by his brother, Carl; sister, Lois Yearout; and grandson, Kevin Ostrowski.
A celebration of his life will take place at the Greencreek Community Hall on Aug. 9 from 4 to 7 p.m. Please join the family for dinner and the time to share memories.
In lieu of flowers, the family suggests contributions to the Lewiston Chapter of Habitat for Humanity, St. Mary's Hospital Foundation or Ernie's favorite political party.