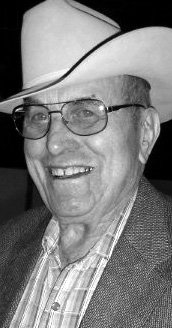 Robert "Bob" Ward Sewell
Milton-Freewater, Ore.
unknown - unknown
Bob (Robert Ward) Sewell, 93 years and 354 days, passed away peacefully at his home in Milton- Freewater, Ore., on Friday, July 11, 2014.
He was born to Ward and Della Smith Sewell July 19, 1920, at the ranch home on Cow Creek, Lucile, Idaho, the second of two sons. The mold was broken following his birth, one-of-a-kind, gentle-natured, quintessential cowboy, loving husband, devoted father, grandfather, great-grandfather and friend to many.
He married Kathryn Wyatt July 17, 1940, and their love of ranch/cowboy life endured through the passing of his beloved wife on April 1, 2010.
The couple purchased the ranch close to his birth home for 67 years when the couple sold the ranch and moved to Milton-Freewater, Ore., where Bob continued to live alone until his passing.
He was a charter member of the Salmon River Cowboy Rodeo Association up to present. Bob attended school at a country school on Cow Creek through the 8th grade. Running away from school in first grade proved his enduring lack of formal education.
Bob's love of ranching stretched his cowboy lifestyle through participating in rodeo, whether a contestant, judge, or pickup man. He won numerous all-around titles, served as grand marshal at the Riggins Rodeo in 1990 and Grangeville Border Days in 1991.
He was awarded Grassman of the Year of Idaho County in 1971, Idaho Cattlemen Association, "Million Miles in the Saddle" award in 1991. The ICA used that opportunity to "tip their hat to those Idaho characters who give real meaning to the word cowboy. They are certainly one of a kind." During his lifetime he saw farming with horses to farming with the Internet.
Bob was a singing cowboy and many pre-TV evenings were spent with family gathered around Dad's knees hearing the "good ol' western songs. He spent his younger years as part of a small band playing for community dances.
In his younger years he was a member of the Young Men's Community Baseball teams, participating in area town-team contests.
Being self-employed he never considered himself retired, even in his final hours he had the need to do the chores like feed horses, steers, cats and dogs. He cooked for himself and said two things he never learned to do; bake a pie and iron a shirt. But when questioned about the latter he said as long as he wore a coat all he had to do was press the front.
Besides his parents, Bob was preceded in death by his devoted wife in 2010, his eldest son, Gary in 2012; his brother, Hubert; sister-in-law, Margaret Wyatt Rose; and two brothers-in-law, Earl and Glen "Ingun" Rice.
Bob is survived by his three children, Eileen (Bill) Uhlenkott, Grangeville, Darrrel (Joyce) Sewell, Baker City, Ore., and Bow (Tricia) Sewell of Milton-Freewater, Ore.; his daughter-in-law, Debbie Sewell of Pendleton, Ore.; and seven grandchildren, Clint Sewell, Clarkston, Rob Sewell, Pendleton, Ore., Wyatt Sewell, Drewsey, Ore., Ryan Uhlenkott, Cottonwood, Angie Kasuske, Poolesville, Md., Tristen Sewell, Milton-Freewater, Ore., and Father Ben Uhlenkott, Boise; 18 great-grandchildren; three nieces; and one nephew; cousins and numerous friends.
Dad instilled in his kids that it wasn't if you won or lost, it was how you played the game. Dad, you knew the value of goodness and your infectious humor and love shall never be replaced. You have left footprints on our hearts.
A graveside service will be conducted today, Wednesday, July 16, at John Day Creek Cemetery at "high noon" (PST) and 1 p.m. (MST). All who are attending the graveside, please know that there is a shuttle service available. Folks may park across the pullout by the John Day Creek Road turnoff. The family suggests memorial contributions may be made to Syringa Hospital Hospice or to Walla Walla Community Hospice. Services are under the direction of the Blackmer Funeral Home, Grangeville to www.blackmerfuneral home.com.