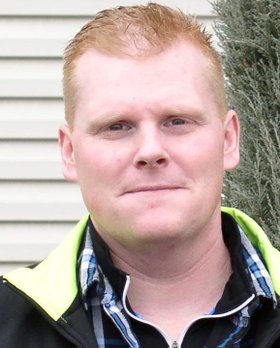 Brandon Aaron Wisdom
Coeur d'Alene, Idaho
unknown - unknown
Brandon Aaron Wisdom, 39, arrived with a flourish, much like he lived life, on June 19, 1975, in Lewiston, Idaho. He left this earth on July 17, 2014. He and his family lived for six years in the surrounding area of Grangeville, Idaho. He moved with his family to Suncrest, Wash., in 1982. The family made another move to Coeur d'Alene, Idaho, in 1988 where he lived until his passing. Brandon graduated from Coeur d'Alene High School in 1993 and from the North Idaho College welding program in 1994.
He married Holly Hamon in 2001, they later divorced. Brandon and Holly had two children, Maddy (age 5) and Wyatt (age 3). Brandon worked several welding jobs then started his firefighting career. His passion was firefighting and he was excited to own his own firefighting business, MAWB Wildland Management. Brandon made a career move to teaching, and worked as a welding instructor at North Idaho College. In the fall of 2013, he started teaching at KTEC in the welding program. He loved teaching and helping his students achieve their goals. Brandon and Allison Currie, his newfound love and companion, began a life together during the past year.
Brandon loved hunting, fishing, the outdoors and people. He would do anything for his family and friends. He believed in giving second chances and was available to lend a helping hand to those who needed support. He was gifted with a heart to serve others. Those who knew and loved him saw his tender, sweet side through the rough exterior. He often showed his affection through humor and teasing.
Brandon will be greatly missed by his children, Maddy and Wyatt Wisdom; parents, Aaron and Jeanne Wisdom; sister and brother-in-law and their family, Tonja, Denton, Weston and Eva Joy Erickson; fiancée Allison Currie and her children; many loving aunts, uncles and cousins, as well as many, many friends.
Donations may be made in Brandon's name at any Numerica Credit Union branch for his children. The family requests donations be made in lieu of flowers.
Services will be held at Lake City Community Church, 6000 N. Ramsey Road, Coeur d'Alene, Idaho, on Friday, July 25, at 11 a.m.