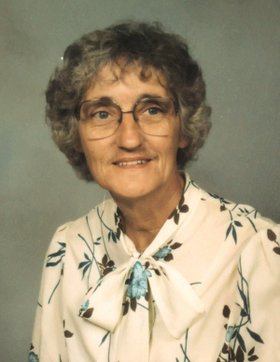 Joyce Elizabeth (Foust) Dreadfulwater
Grangeville, Idaho
unknown - unknown

Joyce Elizabeth (Foust) Dreadfulwater, 76, was born at home up Wiley Creek, Dec. 22, 1937, in Foster, Ore., to William Theodore and Clarine Opal (DeWolf) Foust. She passed from this world to meet her Lord and Savior on July 18, 2014, after a courageous battle with cancer.
In Joyce's home was a plaque that was proudly displayed and read, "Home – Where each lives for the other and all live for God." Joyce lived her life continuously giving unselfishly to others who knew and loved her.
Joyce spent her youth exploring the mountains and valleys of Oregon. She graduated from Westfir High School in Westfir, Ore., in 1956. Soon after, Joyce enlisted in the United States Marine Corps.
Joyce met and later married Charley Leon Dreadfulwater while in the service on Nov. 26, 1957. The couple had five children. They resided in California, Oklahoma and Oregon, but later divorced. In the summer of 1974, Joyce moved her five children to the logging community in Grangeville, Idaho, to join her brother, Ted Foust, and lived there until her death.
Joyce attended Lewis Clark State College prior to her career with the Idaho Department of Health and Welfare. During her time with Health and Welfare, Joyce provided service to many residents of our local communities. After a lifetime of service, Joyce retired to spend time with her family.
Joyce enjoyed hunting, fishing, crocheting and quilting. Joyce took great pleasure in entertaining her grandchildren and great-grandchildren and spent many hours doing so.
Joyce is survived by daughters, Tina (Rod) Nelson of Lebanon, Ore., and Sheila (Gary) Renshaw of Gifford, Idaho; sons, Charley Dreadfulwater of Grangeville, Idaho, John (Jeannette) Dreadfulwater of Nezperce, Idaho, and Brad (Lisa) Dreadfulwater of Grangeville; brother, Gary (Judy) Foust of Clarkston, Wash.; sisters, Donna (Ralph) Groat of Sweet Home, Ore., Roberta (Charles) Whitt of Forest, Va., Charlotte Anderson also of Forest; 18 grandchildren; 18 great-grandchildren; and numerous nieces and nephews. She was preceded in death by her parents and brother, Theodore Foust.
Services will be held at Mt. Idaho Baptist Church in Mt. Idaho, Idaho, Saturday, July 26 at 4 p.m. followed by graveside services at the Mt. Idaho Cemetery. A potluck dinner will follow at Mt. Idaho Baptist Church. Services are under the direction of Blackmer Funeral Home, Grangeville.