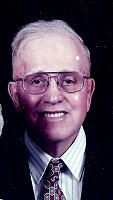 Roman H. Schumacher
Grangeville, Idaho
October 18, 1921 - May 27, 2014
Roman H. Schumacher passed away May 27, 2014, in Lewiston, Idaho. He was born Oct. 18, 1921, to Leo and Mary Schumacher in Greencreek, Idaho. He attended the Greencreek Public School.
Roman worked on the family farm until he was drafted into the Army in 1944. He served until 1946. In 1947, he married Anna Marie Wessels in Greencreek. They settled in Grangeville where they raised their family. Roman was employed as a mechanic at Brown Motors for more than 40 years. He was a volunteer for the Grangeville Fire Department for 30 years. Roman was also an active member of Sts. Peter and Paul Parish for 64 years. He was also a fourth-degree member of the Knights of Columbus.
He was preceded in death by his wife, Anna Marie; his parents, two sisters and a brother. He is survived by his 10 children, Betty Schumacher, Frank (Lynn) Schumacher, Patty Schumacher, Ed (Theresa) Schumacher, Louis (Beverly) Schumacher, Mark Schumacher, Marie (Tony) May, Joe (Shawn) Schumacher, Theresa (Russ) Braucher, and Mike (Janae) Schumacher; 21 grandchildren; 13 great-grandchildren; his sisters, Bernadine Wessels, and Rita (Don) Wessels; and his brothers, Ambrose (Margie) Schumacher and Msgr. Andy Schumacher.
Mass of Christian Burial was on Saturday, May 31, at 10:30 a.m. at Sts. Peter and Paul Catholic Church in Grangeville. Burial followed at Prairie View Cemetery, Grangeville. A viewing was held Friday, May 30, from 3-6 p.m. at the Blackmer Funeral Home, Grangeville.
In lieu of flowers, the family asks that memorials be sent to St. Gertrude's Monastery, 465 Keuterville Rd., Cottonwood, ID 83522, or a charity of your choice. Send condolences to the family at Blackmerfuneral home.com.