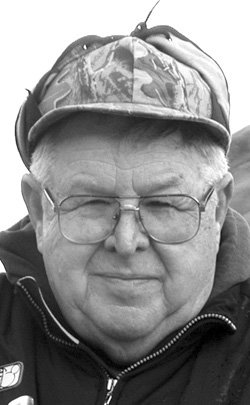 Arthur Leslie Seamans
Lewiston, Idaho
unknown - unknown

Arthur L. Seamans, 77, beloved son, husband, father, brother and grandfather of Lewiston, Idaho, passed away June 12, 2014, surrounded by his friends and family.
He was born Oct. 6, 1936, to Leslie and Marion Seamans in Lebanon, N.H. He graduated from the University of New Hampshire and received a master's degree in forestry from Yale University. While attending a Yale Forestry School course in Arkansas, he met his beloved wife Joyce LaFran Barnette of Crossett, Ark. They were married Dec. 25, 1960, at Hamburg, Ark., and recently celebrated a wonderful 53 years of marriage. He and Joyce moved to Idaho where he started his Forest Service career. As an avid outdoorsman, a job with the Forest Service working on the St. Joe, Clearwater, Bitterroot, Nez Perce and Wallowa-Whitman National Forests suited him well. While serving as the work programs manager at Trapper Creek Job Corps Center near Darby, Mont., in the late 1960s, he and Joyce developed friendships that have lasted a lifetime. His position as district ranger on the all-wilderness Moose Creek Ranger District within the Selway-Bitterroot Wilderness, a job he felt honored to hold, led Art to a very different type of Wilderness in Oregon and Idaho's Hells Canyon. He served as the area manager of the Hells Canyon National Recreation Area from 1980 to 1992 when he retired from government service.
Retirement didn't last long. Within a short period of time he was hired by Snake River Adventures as a tour and fishing guide. Having spent many years on the river, Art attained a rare degree of expertise on the varied and unique aspects of Hells Canyon. His knowledge of the Canyon's Native American, Chinese and Euro-American history was expansive. However, his knowledge didn't end there. The complex and ancient geology of the canyon is another area where Art was proficient. His experience and many hours spent fishing the beautiful Snake River made him a much sought-after fishing guide. He was a skilled riverboat captain, having made hundreds of trips navigating the rugged Snake River.
One of his favorite and most gratifying tasks with Snake River Adventures was taking area school children on spring tours of North America's deepest river gorge. Art felt that it was important for the children to not only go on a once-in-a-lifetime boat ride, but to also learn about the Snake River environment and history. He helped create a workbook for the children to complete as the river trip progressed, teaching them about the prehistory, history, geology, wildlife and flora. The children left the river with a broader understanding and appreciation for one of the country's greatest treasures, Hells Canyon.
Art also spent much of post-Forest Service retirement years putting his knowledge, Forest Service experience and passion for recreational access to public lands and waters to good use working for the Idaho Lands Fund. He worked tirelessly alongside Sandra Mitchel on state and federal access issues in every part of Idaho and for all forms of motorized recreation. He was a member of the Northwest Professional Power Vessel Association, Northwest River Runners, River Access for Tomorrow, American Legion, Blue Ribbon Coalition, National Rifle Association and Selway-Bitterroot/Frank Church Foundation. He also proudly served his country as a member of the National Guard during the Berlin Crisis in the early 1960s.
Art enjoyed spending time with his children, grandchildren, great-grandchildren, and numerous friends, as well as fishing, hunting, boating, camping, and traveling with Joyce to Hawaii, Mexico, New Zealand and Alaska. He spent much of the last 15 years traveling with a group of high school classmates throughout the United States. He was a talented photographer and artist cherishing all that nature had to offer for his lens and canvas.
Art is survived by his wife. Joyce of Lewiston, Idaho; mother, Marion Seamans of Lebanon, N.H.; sister, Sue (Terry) Reynolds of Lebanon, N.H.; and brother, Jim (Debbie) Seamans of Seattle, Wash.; daughters, Cindy Schacher (Peter Bartholf) of Grangeville, Nancy (Randy) Buttenhoff of Lewiston; grandchildren, Michelle (Rob) Teasley of Clarkston, Melissa (Troy) Smith of Grangeville, Brian (Crystal) Schacher of Grangeville, Rebecca and Rayanna Buttenhoff of Lewiston; and six great-grandchildren, Mikayla, Claire, Ellie, Lily, Lydia and Kolton.
Memorial donations can be made to the Selway-Bitterroot/Frank Church Foundation at P.O. Box 8103, Missoula, MT 59807 or the charity of your choice.
A service will be held Thursday, June 19, at Cross Point Alliance Church, 1330 Powers Avenue, Lewiston, Idaho, at 11 a.m. A potluck dinner will follow the service at the large pavilion within Hells Gate State Park in Lewiston.