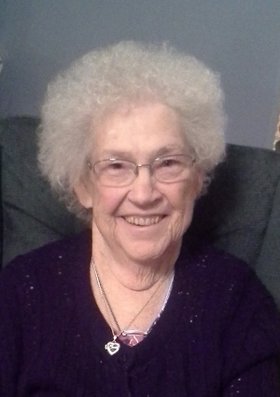 Lois Lillian Grunow Ernst
Nampa, Idaho
unknown - unknown
Lois Lillian Grunow Ernst, 82, was born in Eagle Butte, S.D., on Aug. 14, 1931. She passed into the hands of our Lord on June 15, 2014. Her father, Emil Grunow, worked for the Milwaukee Railroad and her mother, Luella Amelia Eichmann, was a housewife. She grew up in Dupree, S.D., a small town located on the Cheyenne Indian Reservation.
In 1950 she married Wesley Everett Ernst, and moved with her new husband, her brother, LeRoy, and her sister, Ethel, to McCall, Idaho. Her children with Wesley include Luella Buchanan, Gladys Lockart and Leslie Ernst, all of whom currently live in Idaho.
Lois was active in the Business and Professional Women's Club, the 4-H, the National Wildlife Federation, and the Cub Scouts, where she served as a den mother for several years. She was known as the queen of Farkle, pinochle and dominos.
In 1977, Lois and Wesley sold their home on Lake Street, near Conifer Cabins, and moved to Kamiah, Idaho, so that they could be near their daughter, Gladys, as well as friends who lived in the area. During their retirement, Lois and Wesley enjoyed the small town atmosphere of Kamiah and the many hunting and fishing opportunities enjoyed by people living there. In 1999, Lois and Wesley moved to Nampa, Idaho, and lived with their daughter, Leslie. After Wesley passed away in 2000, Lois continued to live with her daughter, Leslie, in Nampa.
Lois is survived by her children, Luella (Jim) Ernst Buchanan, Gladys (Rick) Ernst Lockart, and Leslie Ernst; by her grandchildren, Shelly Buchanan, Natalie (Jake) Buchanan Pfrimmer, Brad Lockart, Dusty Lockart and Angie Lockart; as well as two great-granddaughters, MacKenzie Lockart and Paige Pfrimmer; her brother, LeRoy Graw, currently living in Lakewood, Wash.; and her sister, Ethel Ford, currently living in Lubbock, Texas.
Lois will be remembered for her strength of character, her pioneering spirit, and her warm and loving nature. Her leaving will leave a big hole in all of our lives.
A viewing will be held Saturday, June 21, from 8-10 a.m. at the American Legion Hall, 618 Main in Kamiah. A graveside service will follow the viewing at 11 a.m. at the Kamiah City Cemetery. Remembrances may be left for the family at www.AccentFuneral.com. Services are under the direction of Accent Funeral Home, Meridian, Idaho, 888-5833.