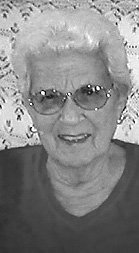 Marjorie L. Burditt
Grangeville, Idaho
unknown - unknown

Marjorie L. Burditt, 89, of Grangeville, Idaho, passed away Monday, June 9, 2014, at her home.
She was born Aug. 13, 1924, at Cedar Vale, Kan., a daughter of John L. and Lucy A. Pulliam Utt. She moved to Ahsahka, Idaho, in 1935. She married Oroville Crotinger and they moved back to Kansas. They had two sons, John Robert and Joseph Crotinger before divorcing. She met and married Dewey Burditt in 1956 and they moved to Idaho in 1957. She worked for the A & F Store and then worked for 1st Security Bank, retiring in 1993. Following her retirement they spent 19 years wintering in Yuma, Ariz. She loved to read, crochet and visit her family and friends.
She is survived by her husband, Dewey Burditt; sons, John Robert (Sherry) Crotinger and Joe (Cindy) Crotinger; grandsons, Steve, Bill, David, Brian and Guy Crotinger; granddaughters, Maria Iuppa, Lisa Rodio and Denise Abbenante; and 19 great-grandchildren; her sisters, Bettie Cox of Grangeville and Joyce "Peg" Duclos of Spokane; and many nieces and nephews. She was preceded in death by her parents; brothers, Johnny and Jim Utt; and a sister, Mary Rotes.
Graveside services were held on Saturday, June 14, at Denver Cemetery. Family suggests memorial contributions may be made to the charity of your choice. Services are under the direction of the Blackmer Funeral Home, Grangeville.