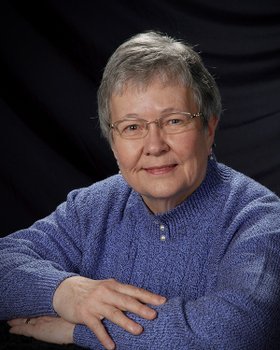 Mary Frances Uhlenkott Weeks
Spokane, Wash.
February 2, 1944 - June 13, 2014
Mary Weeks, 70, died on June 13, 2014, in Spokane, Wash. Her last days were filled with many visits by family and friends. Mary was born Feb. 2, 1944, as the fourth of five children in Lewiston, Idaho, to Vincent and Claudine Uhlenkott.
Mary graduated from Gonzaga University and then spent time as a Jesuit Volunteer in Zambia, Africa. Mary continued her long adventurous life in Spokane, Wash., by teaching for 30 years in Central Valley School District and volunteering many hours of her time, most recently to The Women's Hearth. Mary's dedication to others through her volunteer work was recognized earlier this year when Governor Jay Inslee presented her with the Outstanding Volunteer Award at the governor's mansion in Olympia, Wash.
Mary was a deeply spiritual person involved in a women's prayer group and having completed the Spiritual Direction Program at Gonzaga University. Mary wed her husband, Richard L. Weeks, on Aug. 21, 1976, at Sacred Heart Parish in Spokane, Wash., and was the proud mother of Richard T. (Carie) Weeks, William (Margaret) Weeks, Daniel (Valerie) Weeks and Mary Lee (Christopher) McJimsey. After retirement Mary kept herself busy by taking care of children in her home. After her grandchildren were born, Mary made it a point to spend as much time as possible with her grandchildren, even those down in California.
Mary was preceded in death by her sister, Emagene Warren, and her parents, Vincent and Claudine Uhlenkott. She is survived by her husband and her children, as well as her grandchildren, Richard J. Weeks, Ellie Weeks and Lacey Weeks; and her brothers, Glen Uhlenkott, Lloyd Uhlenkott and Loren Uhlenkott.
The Mass in celebration of her life will be on Saturday, June 21, at 10 a.m. at St. Peter's Catholic Parish, 3520 E 18th Ave, Spokane, Wash. If you feel called, any donations can be made to the charity of your choice.