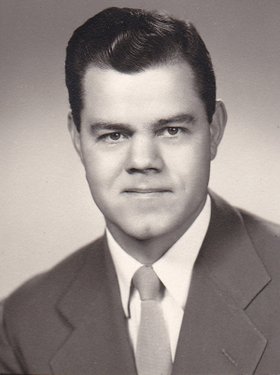 Orrin Rupe Saunders
Portland, Ore.
unknown - unknown
Orrin Rupe Saunders died suddenly June 11, 2014, after a long, very happy and fulfilling life at Portland, Ore. Orrin was born Sept. 16, 1924, to Ernest L. Saunders and Joy (Rupe) Saunders at Harpster, Idaho. He was the second child of four: Arden Saunders, Orrin, Mary (Saunders) Mitchell and Erna Joy (Saunders) Sproul. Orrin grew up on his parents' Red River ranch, attending the local schoolhouse for the Red River kids, and graduated from Kamiah High School.
Orrin went to Seattle to work in the shipyards. After a severe bout with pneumonia, he returned home. Subsequently he volunteered for the Army Air Corps, which took him to Texas and Missouri. He was fully trained as a bombardier when WWII ended. After the war, Orrin earned a bachelor's degree in mechanical engineering at the University of Idaho. He married an Elk City girl, Dolores Marie Touraille, and went to work for the Potlatch Company in Lewiston. Orrin and Dolores had one child, Patricia Kay (Saunders) Miller. When Patricia was 5, he joined the Uniroyal Tire Company in Detroit, Mich., where he worked until he retired.
After retirement, Orrin and Dolores adventured by driving to Alaska with his brother, Arden, and enjoyed trips to Mexico and Europe with his sisters and their husbands. Dolores predeceased Orrin in 1994. He enjoyed fishing, hunting, archery and skiing in Grangeville, usually with his brother-in-law, Al Mitchell. He won the seniors downhill race one winter at the age of 69.
At 80, Orrin traveled to Europe with his daughter and granddaughter. He moved to Kennewick to live near his sister for the next six years, and then moved to Portland to live near his daughter, seeing his granddaughter, Victoria Joy Miller, and grandson, John Eric Miller, as often as possible. He was a wonderful grandfather, and the family will remember him as the sweetest person we ever knew.
Graveside services will be held Friday, June 20, at 11 a.m. at Prairie View Cemetery, Grangeville. Services are under the direction of Blackmer Funeral Home, Grangeville.