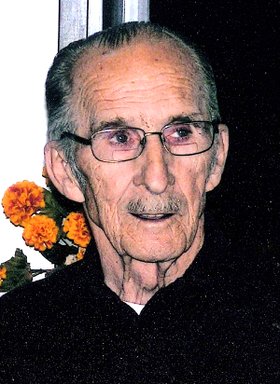 Merlin Rex Halbert
Cottonwood, Idaho
January 24, 1929 - February 24, 2014
Merlin Rex Halbert, 85, of Cottonwood, Idaho, passed away Feb. 24, 2014, after a long and courageous battle with cancer with his family at his side.
He was born in Clay Center, Kansas, to Leonard and Mary Halbert on Jan. 24, 1929. The family moved to Payette, Idaho, when he was 5. He enlisted in the U.S. Navy on his 17th birthday and was discharged in 1948.
After his discharge he married Darlene VanOyen. They celebrated their 65th wedding anniversary on Nov. 15, 2013.
Merlin worked in the woods for 45 years. He loved his work and being in the woods. Even after retiring he was always hunting, fishing and making firewood.
He was a life member of the Grangeville Elks Lodge, a 58-year-member of the Eagles Lodge and also a member of the Cottonwood VFW.
Preceding him in death were his mother and father, three brothers, one sisters and one son, Timothy Ray.
Remaining is Darlene, his wife; two daughters, Mer'Lene (Gary) Calkins of Lapwai, Idaho, Darla (Tharon) Midland of Grangeville; six sons, Rickey (Terry Lynn) of Pomeroy, Wash., Ronnie (Marilyn) of Lewiston, Idaho, Steve (Sherry) of Nampa, Idaho, Terry (Sandy) of Cottonwood, Idaho, Douglas (Maggie) of Hermiston, Ore., and Tommy (Dianne) of Winston, Ore.; 24 grandchildren; 28 great-grandchildren; and one great-great-grandson.
He was very proud of his family and many grand and great-grandchildren.
Visitation was held Friday, Feb. 28, at Uhlorn Funeral Home in Cottonwood from 1 to 8 p.m. A Rosary service was held Saturday, March 1, and the funeral Mass followed at St. Mary's Catholic Church in Cottonwood. Burial with military honors followed at the Cottonwood Catholic Cemetery.