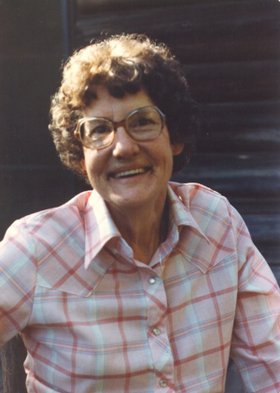 Linnie H. Anderson Kidder
Grangeville, Idaho
March 10, 2014 - unknown
Linnie H. Anderson-Kidder, 93, went home to her Lord Monday, March 10, 2014. She was a longtime resident of Grangeville and grew up on Clearcreek near Kooskia at the Clute family home.
She is survived by her husband of 29 years, Kenneth Kidder of Grangeville; her daughters, Cheryl Spengler (Jim) of Pasco, Wash., Susan Anderson of Colorado Springs, Colo.; her grandchildren, Christie Conrad Melbihess (Carlo), Sarah Owens, Jimmy Spengler and Dylan Owens; her sister, Caroline Thomas of Spokane/Clearcreek; and many nieces and nephews. She was preceded in death by her parents, two sisters, three brothers, and husband, Ralph Anderson.
Linnie enjoyed the music of the Kidder family, listening to the Old Time Fiddlers, and dancing with Kenneth. The love they shared was very special, and it was a joy to see them taking a spin around the dance floor when they celebrated their 90th birthdays a few years ago. Linnie treasured time with her family and spent many happy times at the Clute cabin, swimming in the creek and catching fish.
As a young woman she helped build B-25 bombers in Kansas City, then worked at the Bremerton Naval Shipyard, and raised her daughters as a wife and homemaker in Grangeville. Linnie committed her life to God as a teenager and served her Lord through the church as a Sunday school teacher, Vacation Bible School leader, and youth leader for many years. Her faith remained strong throughout her life, even when she was unable to attend services regularly. Her family rejoices in knowing she is resting in her Savior's arms in heaven and singing with the angels for all eternity.
A graveside service will be held at Pinegrove Cemetery in Kooskia, with a memorial celebration of life at Evangelical Free Church, 408 N. College St., Grangeville, on Sunday, March 16, at 3 p.m. In lieu of flowers, the family requests donations to Evangelical Free Church or Syringa Hospital in Linnie's honor.
Services are under the direction of Blackmer Funeral Home, Grangeville. Send condolences to the family to Blackmerfuneralhome.com.