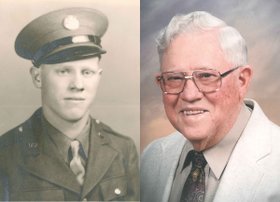 Anselm Joseph Schumacher
Greencreek, Idaho
April 17, 1922 - March 16, 2014

Anselm Joseph Schumacher, 91, passed from this life surrounded by his family on Sunday, March 16, 2014. Anselm was born on April 17, 1922, to Anton Schumacher and Francis Schmidt Schumacher. He was the sixth child of nine children. He was raised on the family farm in Greenceek, Idaho, and attended Greencreek schools through the eighth grade. His dedications and work ethic distinguished him in his church and community. He served on many boards including the Federal Land Bank of Cottonwood, 27 years; Idaho and Lewis Counties Farmers Home Administration; he served as trustee for the Idaho School Board #242. During his first term the local public schools were consolidated into one school to form the Prairie School District #242 at which time Prairie School was built. He served on St. Anthony Parish Councils as president for three years; Idaho County Fair Board for 10 years, serving as president for six years. He was a board member of the Lewiston Grain Growers for six years and president of the Cottonwood Lions Club for one year. He served as an ASCS County committeeman for six years. He was a member of the Elks Lodge #1825, and was a life member of the VFW Post #4902 and a lifelong member of St. Anthony's Catholic Parish.
Following the declaration of WWII on Dec. 7, 1941, he enlisted in the U.S. Army in October. During his service to America he served in the 48th Ordinance Battalion supporting the 29th and 30th Armored Division under the command of General Omar Bradley. He served his tour in England. He saw active combat in the invasion of Normandy and landed on Omaha Beach in June 1942. His service included tours in the European Theater including the Normandy Invasion, German Invasion, and Battle of the Bulge and Elbe River Battle. He was awarded the National Defense Medal and he received five battle stars and a WWII Victory medal.
Many of Anselm's descendants followed in his patriotic boots by volunteering as members of the military ranks and include E-5 Jim Schumacher, ARNG; Ct 3 Jerry Kopczynski USN; Lt. Col. Joe Ryther USAF, Sargent; Ryan Mader UCMC; Master Sargent Adam Schumacher USAF; Airman Andrea Schumacher USAF; Petty Officer Chris Johnson USN. On Veterans Day 2013 Anselm received a quilt of valor presented by Kamiah Ladies Auxiliary.
Following an honorable discharge Anselm returned home to Greenceek and worked on his father's farm. After purchasing a plot of rich Idaho soil, Anselm began his successful career in the Idaho farming industry.
Anselm became acquainted with Vera Elizabeth Wessels and on Sept. 11, 1946, Anselm and Vera became life partners and shared their love of farming, travel and raised their eight children, Jim (Bettie) Schumscher, Ted (Gayle) Schumacher Mike (Marlene) Schumacher, Jerry Schumacher, Greg (Julie) Schumacher; three daughters, Jeanne Ryther, Dee Kopczynski (Jerry) and Donna (Lowell Mader); 21 grandchildren had the privilege of calling him Grandpa Schumacher; and he has 29 great-grandchildren.
His passion was farming, livestock management, driving tractor and combine. If the wheat yield was 100 plus bushels he would stay on-board the combine late into the evening. In later years he spent much time nurturing his flower garden.
Anselm is survived by his wife, Vera; his eight children; his sister, Teresa Funke; 21 grandchildren and 29 great-grandchildren. He was preceded in death by his parents; brothers, Alphonse, Joe, Ed and Christopher Schumacher and Carl Schmidt; sisters, Caroline Stubbers, Louise Arnzen, Josephine Stubbers; and a baby daughter born in 1961.
Visitation will be held at Uhlorn Funeral Home Thursday, March 20, from noon until 8 p.m. A celebration of life will be conducted at St. Anthony's Catholic Church on Friday, March 21, at 10:30 a.m. preceded by a Rosary and viewing at 10 a.m. A military interment service will be held at the Greenceek Cemetery followed by a reception at the Greencreek Community Hall.
The family would like to offer special acknowledgement to the staff of St. Mary's Hospital in Cottonwood, and Carol Crane for their kind and loving care.
Funeral arrangements are under the direction of Uhlorn Funeral home. The family suggests any donations be made to the Lewiston Veteran's home.
March on soldier - thank you for your service.