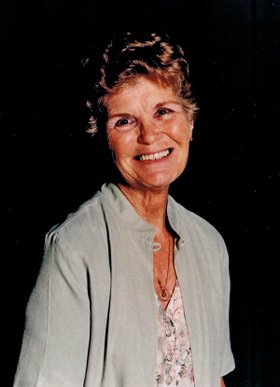 Charlene L. Workman
Riggins, Idaho
March 14, 2014 - March 1, 1931
Charlene L. Workman, 83, died at her home in Riggins, Idaho, on March 14, 2014, after a few months of failing health. Charlene was born on March 1, 1931, in Los Angeles, Calif., to Coleman A. and Lois L. Hollingsworth. Charlene and Lois were soon thereafter abandoned by Coleman and left to fend for themselves. In 1940, Lois remarried to Charles J. Billings who then became a wonderful and caring "real dad" to Charlene for the remainder of his life. Charlene grew up with her special cousins, Ronny and Charlie Bernard, who were like brothers to her, including the tricks and the teasing of such a relationship ("whatever you do, if you fall while we're trying to teach you how to water ski, don't let go of the rope," which took her right toward the bottom of the lake).
After graduation from high school in Miami, Ariz., Charlene met and then married DeLoss (Doss) Y. Workman on Feb. 3, 1950; a marriage that lasted almost 47 years , until his death in December 1996. Doss and Charlene moved to Riggins after the Korean War in 1952, and made their home there for the rest of their lives. In the prime of their lives, Charlene worked at the post office and then was the secretary for the Salmon River Lumber Company while Doss ran the Texaco Service Station, and they raised two sons and a daughter. Following the devastating lumber mill fire in 1982, Charlene continued to help support the family by working at the bank, by taking on various bookkeeping jobs, property rental jobs, and operating the state liquor store.
Charlene loved Riggins and the people who lived there and they loved her back. She was active in the community, participating in most of the events and functions and helping out where needed. She served on the Riggins City Council for several years and played town-team volleyball into her 60s. In her golden years, Charlene particularly enjoyed spending time with and traveling with the next love of her life, Doug Crump, another longtime Riggins resident who lost his wife near the time Charlene lost her husband – the Jazz Festival in Sun Valley in the fall, Arizona in the winter, a fun time in San Antonio, and excursions with their church family throughout the year.
In addition to her husband, Doss, Charlene was preceded in death by the untimely loss of her youngest son, Mike, at 35 due to an illness; and her oldest grandson, Joe, at 21 due to an accident – two tragedies of life that hit her hard. She did, however, continue to take great pleasure in her remaining children, grand-children, and great-grandchildren at all times but particularly at holidays and family get-togethers.
Charlene is survived by her son, Mark (Mary Ann) Workman of Pullman; daughter, Rexann Zimmerman of Riggins; grandchildren, Brandon Workman of Portland; Caleb (Rachael) Workman of Clearfield, Utah; Stephanie (Jake) Davis of Boise; Shai Workman of Coeur d'Alene; Jazmine Mitchell of Ogden, Utah; and five great-grandchildren, Elizabeth, Chloe, Eric, Tristuana and Joy.
As her family, we want to say that we were very blessed by having her in our lives. A memorial service will be held on Saturday, March 22, at 2 p.m. at the Salmon River Community Church in Riggins.