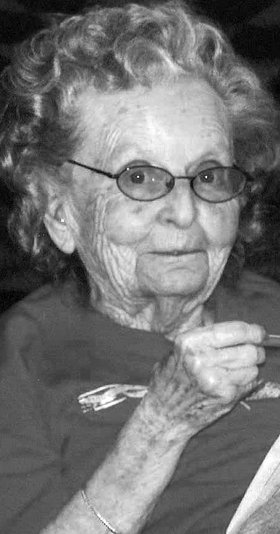 Jessie L. Wisenor
White Bird, Idaho
January 9, 1914 - March 9, 2014
Jessie L. Wisenor, 100, a lifelong resident of White Bird, Idaho, passed away at St. Joseph's Regional Medical Center in Lewiston on March 9, 2014.
Jessie was born Jan. 9, 1914, in Cornelius, Ore., to William and Bertha Killgore. She came to Salmon River Country from Oregon with her parents at age 3 by way of a horse-drawn freight wagon. Jessie attended and graduated from White Bird High School.
She married Melvin "Joe" Wisenor in 1934. Two children were born of that union, son, Joseph James (deceased), and daughter, Glory Kay. Joe later lost his life in WWII.
Jessie was owner operator for many years of The Shell Service Station Bar and Grill in White Bird.
Jessie had a lifelong love for good books and loved to embroidery, but the true light in her life were the grandkids. She never tired of time with them or hearing about their lives.
Jessie is survived by daughter, Glory (Otto) Ward of Colville, Wash.; grandsons, Mark (Mary Jo) Medley of Pierce, Jeff Medley of Riggins, Melvin Wisenor of White Bird; great-grandsons, Ryan (Janell) Medley and daughter, Hannah, of Lewiston, Wade Medley of Pierce, Shane Medley of Pierce, Lucas Medley of Clarkston, Wash.; great-granddaughters, Annette Peterson (T.C.) and son T.J. of Orofino, Amanda Wisenor of Boise; a sister, Jean Hinderer of Bremerton, Wash.; brother, Jay Killgore of Clarkston; special nieces and nephews, Bill and Millie Wisenor, Keith, Les, Carl, Steve, Bill and Camille Killgore of White Bird and Jeanie Acorn of Colville, Wash.
Jessie was preceded in death by her parents; son, Jimmie Joe Wisenor of White Bird; brother, Jim Killgore of White Bird; and sisters, Jenny and Josie, both from Clark Fork, Wash.
Graveside services to be announced at a later date.