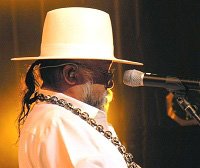 Larry Ramos
Grangeville, Idaho
April 19, 1942 - April 30, 2014
Larry Ramos, 72, was born in Waimea Kauai, Hawaii, on April 19, 1942, and passed away on April 30, 2014, in Clarkston, Wash. His more than 65 years in show business garnered many awards and accomplishments including a Grammy Award in 1963 for Best Performance by a Chorus; The New Christy Minstrels and sang co-lead on the second most played song on the radio, "Never my Love," while a member of The Association. He genuinely loved performing and used to say, "I have the best job in the world, I get to do something I would do for free but I'm getting paid for it." He was touched when his retirement concerts sold out in his hometown of Grangeville, Idaho, at the Blue Fox Theatre.
His life was full of love, joy, music and most importantly, family. He is survived by his loving mother, Patrocinia Ramos; his beautiful wife of 50 wonderful years, Helene; daughters, Tracy (Chris), Stacy, Keli (Ross); sons, Larry Ramos, III, Terry (Amy); sister, Carmen (Dan); and brother, Del. He was also blessed with five grandchildren and one great-grandchild. He was predeceased by his father, Larry Ramos, Sr., in-laws, Mabel and Walt Luman, who were residents of Grangeville, Idaho. No words can express how much Larry was loved and respected both as a friend, musician, son, husband, father, brother and grandfather.
A celebration of life is tentatively scheduled for Father's Day weekend. Please check Larry's Facebook page for updated information as it will be posted there https://www.facebook.com/LarryRamosflyinhawaiian.
Arrangements are under the direction of Blackmer Funeral Home, Grangeville.