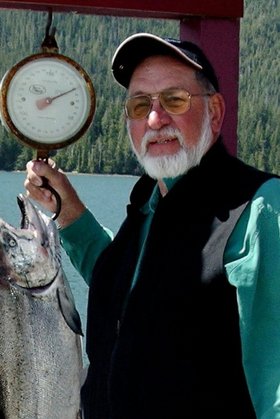 Lowell D. Jarvis
Meridian, Idaho
May 27, 1937 - May 1, 2014
Lowell D. Jarvis, 76, Meridian, Idaho, passed away May 1, 2014, after a six-month battle with leukemia. Born May 27, 1937, in Provo, Utah, he was raised in Grangeville, Idaho, among a family of pioneers. His grandparents came west to farm in 1904 and the family was close, so he grew up with his cousins always in the mix. They enjoyed the outdoor life –– hunting, fishing, camping, huckleberry picking and the like.
When Lowell was in the eighth grade (1950) his dad decided to pick up a car from the factory in Detroit. They flew and then traveled to 38 states to "learn" about those places firsthand. Besides hunting, fishing, and all related activities, Lowell was a model plane builder and flyer. There are still a few of his creations hanging in the garage.
When he was young his father bought a service station and sporting goods store in Grangeville, and he worked alongside his father and brother, which is where learned the useful art of car repair and maintenance as well as his expertise with weapons and ammunition.
While at college he met his future wife, Carol Benedict, marrying her Aug. 8, 1959. Just before his June 1960 graduation from the University of Idaho, they welcomed their daughter, Linda, into the family. Four years later they added their son, Lyle.
After graduation, Lowell passed his CPA exams and spent three years in the San Francisco area working as an auditor for Arthur Anderson & Co. He left there in 1963 to join Boise Cascade where he worked until 2000. In 1978 he became the controller for the wood and timber products division.
While his kids were growing up there were many fishing and camping trips, as well as frequent trips to the family-owned dude ranch, the Bar M, in the Wallowa Mountains outside Pendleton. He taught his kids to water ski and many weekends and evenings were spent on the water in his boat.
Since his retirement in 2000, Lowell enjoyed weekly sporting clay shooting with friends. He also loved guns and reloading his own ammunition. He and his wife enjoyed trips to Portland and Texas to visit his children and their families. He continued to take the boat out as often as possible and joined his hunting party of cousins and friends during elk season.
Lowell lived a life of helpful kindness, never passing anyone who needed help. His family recalls sitting by the side of the road while he fixed broken down vehicles, and once, in severe weather, took two people 50 miles to a hospital after witnessing their auto accident.
He was preceded in death by his parents, Lawrend and Helen Baker Jarvis. He is survived by his wife, Carol Jarvis, Meridian; children, Linda (Paul) McDonald of Portland, Lyle (Shelli) Jarvis of Amarillo, Texas; grandchildren, Ian McDonald, Logan and Leah Jarvis; brother, Leland (Linda) Jarvis of Fullerton, Calif.; as well as many cousins and other extended family.
Services were held on Monday, May 5, at the Boise Church of Christ, 2000 N. Eldorado, Boise. Memorial gifts may be given to the (BSU) Biblical Studies Center in care of the Boise Church of Christ, or the Rocky Mountain Elk Foundation.
Arrangements were by Summers Funeral Homes, Ustick Chapel, Meridian, Idaho.