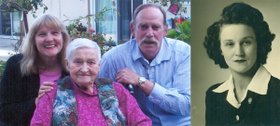 Wilma Mae Hall
Daly City, Calif.
November 4, 1918 - February 25, 2014

Wilma Mae Hall, 95, died Feb. 25, 2014, at Daly City, Calif. She was born Nov. 4, 1918, in Beaman, Mo, to John Henry Gilmore and Emma Rite Beaman Gilmore.
Wilma attended Lovelace school fondly remembering excelling in the "Spelling Bees" and loving to go to school. During World War II she worked jobs in the war effort in Missouri. As a teenager she drove cross-country prior to interstate highways, alone, to deliver a car (manual transmission) to her employer. After marrying Harold Gunder of Gunder's Auto Reconstruction in San Francisco, she relocated to San Francisco retiring as the manager of Foster 's Restaurant at 21st and Geary Blvd.
Upon marrying second husband, William R. Hall, USPS, she retired in Paducah, Ky., where she was active in church, the Home Makers organization and kept a beautiful garden on their acreage, where people would request her lovely flowers for their weddings.
After being widowed she moved to Riggins and San Francisco with daughter and son-in-law, Phyllis and Dave, and belonged to church, Knit Club, Pinehurst Quilters, American Legion Auxiliary, Rebekahs, Seniors, Pinochle Club, SRAG, Red Hat Society, etc. She made her first quilt at age 81. She had a green thumb in the garden and prided herself in belonging to three PTA's at one time while working full time and maintaining a large home and two summer homes, and helping with her first husband's paperwork for his auto body business. Most of her life she loved to fish and play slot machines at least once a year for relaxation. For about 40 years of her life, she loved to travel with her daughter and later with her son-in-law who played Skip-Bo with her daily. She passed away peacefully, at 95 years of age surrounded by family and friends.
For a full obituary please see www.duggans-serra.com/obituary/wilma-mae-hall/san-francisco-ca/1350993.
She is pre-deceased by both husbands, Harold Gunder and William (Pete) Hall; her beloved son, David Gunder; and step-son, Bill Hall. Her father passed away in a farm accident when Wilma was 11 months old and her almost 19-year-old brother, John, died in the Korean War. She is greatly missed by her loving daughter, Phyllis and son-in-law, Dave Sieber; daughter, Anita Daly; stepson, John Hall (Robin); stepdaughter, Anna Hall; many grandchildren, great grandchildren, nieces and nephews and very dear extended family and friends. Please see full obituary for names.
For the last years, Wilma would walk down the streets of Riggins on her burgundy colored walker admiring gardens and cutting her flowers at 225 Main Street to give to her friends. For anyone attending her service in Riggins who has a few flowers in their yard, please bring them to her service as a tribute to her. Thank you to all in the community who were so kind to her. Riggins is a wonderful place to grow older.
Wilma's first service was in California on March 8.
A celebration of her life will be held on Friday, May 23, at 11 a.m. at the Assembly of God Church in Riggins with Pastor Clifford Scheline officiating. A luncheon at the church will immediatelly follow the service. Everyone is invited.
Burial, service and luncheon to follow in Paducah, Ky.