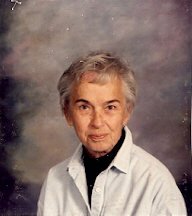 Joyce Hazelbaker
Grangeville, Idaho
December 5, 1926 - May 14, 2014
Joyce Hazelbaker, 87, of Grangeville, Idaho, passed away Wednesday, May 14, 2014, at the Meadowlark Home in Grangeville. Joyce was born in Grangeville on Dec. 5, 1926. She was the only daughter of Joseph and Reta Rode Hazelbaker. She graduated from Grangeville High School after attending Sunnyside, a one-room school, just a mile from her home.
After graduating from Deaconess Hospital School of Nursing in Spokane, Wash., in 1947, she spent almost 50 years in some area related to nursing or healthcare. She was employed in nursing at Deaconess Hospital as well as teaching in the School of Nursing. She was also employed at Denver General Hospital, Denver, Colo.; Good Samaritan Hospital, Los Angeles, Calif.; the U.S. Public Health Service Hospital in Anchorage, Alaska; and was employed by the State of Alaska as executive officer for the Alaska Board of Nursing.
Her advanced education included a Bachelor of Science degree from Whitworth College, Spokane, Wash., and a Master of Science degree from the University of Colorado, Boulder, Colo.
She served in the U.S. Air Force Nurse Corps, stationed at Nellis AFB, Las Vegas, Nev., and Lowry AFB, Denver, Colo. During her time in the service, she attended school at Walter Reed Army Medical Center, Washington D.C. Her military service is recorded at a memorial in Washington D.C. through the Women in Military Service for America (WIMSA) organization.
Joyce was an active member of the Grangeville Christian Church during the years she lived in Grangeville and played either the piano or organ. She enjoyed playing the fiddle, reading and traveling.
She is preceded in death by her parents. She is survived by her brother Dan of Grangeville, Idaho.
A private inurnment will be held at Fairview Cemetery at a later date. In lieu of flowers, memorial gifts may be made to the Grangeville Christian Church or charity of choice. Services are under the direction of the Blackmer Funeral Home, Grangeville, Idaho. Send condolences to the family to Blackmerfuneralhome.com.