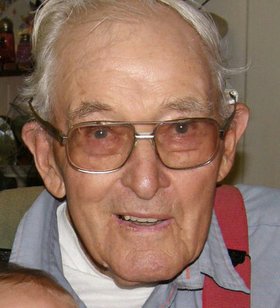 Cecil Earp
Grangeville, Idaho
April 21, 1920 - May 25, 2014

Cecil Earp died peacefully in his home May 25, 2014, with his family by his side. He was born April 21, 1920, to J. B. and Emma (Manring) Earp on the farm his parents homesteaded in 1912 on the Camas Prairie. He attended school at the Columbus school house on Cottonwood Creek.
He joined the Army Air Corps in December 1941 and was honorably discharged in November 1945. He served in the Southern Philippines.
He married Cora Bue on Feb. 14, 1947, in Big Timber, Mont. They resided in Spokane, Wash., for a couple of years before moving back to the prairie to farm.
In addition to farming, Cecil worked for several years at Idapine Mills, and later was employed by Union Independent Highway District, but his love was farming and raising livestock.
He loved gardening, hiking, hunting and fishing, going to dances in the area, horseback riding, and he and Cora took many trips across the country on their Honda Gold Wing motorcycle. He loved to fly, and learned to fly in a Piper J-3 cub. In his later years, he enjoyed riding along with his grandson, Chad, whenever an empty seat was available in the plane. Some of his best memories were with his grandchildren.
His social activities through the years included membership in the Elks Lodge, Idaho County Farm Bureau, Cattlemen's Association, VFW and NRA.
One of the highlights of his life was a trip to Europe with their daughters and visiting his wife's relatives in Norway. Cecil loved to travel, and he had many stories of his adventures in Australia during the war.
He was preceded in death by his son, Michael, who was killed in Vietnam; his brother, Ivan Earp; son-in-law, Bill Longeteig; and a great-grandson, Nathan Frei.
Survivors include Cora, his wife of 67 years; daughters, Beverli Longeteig of Craigmont; Jana Frei (Michael) of Grangeville; seven grandchildren; and 14 great-grandchildren.
Services will be held at Blackmer Funeral Home Friday, May 30, at 11 a.m. with interment at Prairie View Cemetery.
In lieu of flowers, the family suggests donations to the Trinity Lutheran Church in Grangeville, or Animal Ark, due to his love of animals.