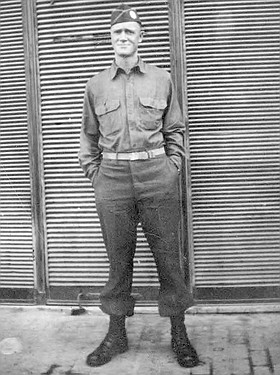 Carl Warren Paul
Spokane, Wash.
unknown - unknown
Carl Warren Paul, 101, formerly of Kamiah, Idaho, died Oct. 28, 2014, at Spokane, Wash. He was born in Windham, Mont., on Jan. 15, 1913, to Melissa May (Roe) and John Henry Paul. He was the third of eight children.
When World War II began he joined the Army early in 1942, and when he was told that the pay was more if you became a paratrooper he decided to do that. He was a member of the 82nd Airborne Division, 505th Parachute Infantry Regiment. He made four combat jumps in Sicily, Italy, France and Holland. While he was on leave in England he met his future wife, Veronica Park-Scott.
They were married in Leister, England, Oct. 28, 1944. Her wedding dress was sewn from his spare parachute. After the war was over they went back to Idaho where Carl had a small farm in Caribel. Together they raised livestock and farmed the land. They had three red-haired daughters, Margie, Patty and Carla.
Following a car accident in 2005, Carl and Vera left the ranch and moved into Kamiah. After Vera passed away in 2012 Carl went to stay with his nephew, John and family in Burley, Idaho, where he celebrated his 100th birthday. He moved to Spokane in 2013 to be closer to Carla. He passed away at Hospice House of Spokane on Oct. 28. It was his and Vera's 70th wedding anniversary.
Carl is preceded in death by his wife, Veronica; daughters, Margery May and Patricia Emily; and all his siblings. He is survived by his daughter, Carla Veronica; nephew, John Paul and his wife, Wilma; and other extended family.
Services will be held at Trenary Funeral Home in Kooskia, Idaho. Visitation is Friday, Nov. 7, from 4-8 p.m. Funeral service is Saturday, Nov. 8, at 11 a.m. Interment with military honors will follow at the Kamiah City Cemetery in Kamiah. A covered dish dinner will follow at the Kamiah VFW hall.
Arrangements have been entrusted to Trenary Funeral Home in Kooskia.