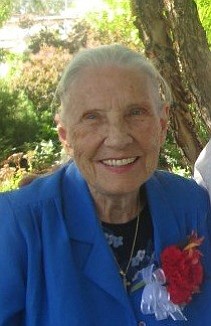 Joyce E. Altman
Grangeville, Idaho
unknown - unknown

Joyce Elaine Altman, 89, of Grangeville, Idaho, died Thursday, Oct. 30, 2014. Joyce was baptized into the Christian faith and continued in that same faith in Christ as she received God's Word and the Sacrament at Trinity Lutheran Church, her home congregation. She was born in Spokane, Wash., Jan. 27, 1925, to Orin Kenneth Rogers and Blanche Whittier Rogers, and grew up with her brother, Dick, on the Rogers ranch on Asotin Creek near Deer Creek outside White Bird, Idaho.
Joyce attended White Bird High School and graduated from Grangeville High School during World War II. She went to telegrapher school in Spokane until VJ-Day brought the war's end. She then went to work as a bookkeeper at First Security Bank in Grangeville, where she met David H. Altman who was also employed by the bank. They were married Sept. 28, 1947, at the Grangeville Christian Church. They were blessed with seven children, Patty (Don) Coffman, Marilyn Altman, Carolyn Meyer, Gary Altman, Nancy (Greg) Ford, Bonnie (Blaine) Kofoed, and Ken (Christy) Altman. When their children grew up, they were blessed with these grandchildren: Lisa, Melanie, Shon (Meyer); Kristi (Coffman); Breahna, Jacob, Jordan (Kofoed); and Nicholas and Andrew (Altman). Dave and Joyce were blessed with these great-grandchildren: Linsey, Megan, Hailey (Sullivan) and Deric, Devin, Mariah, Katrina (Deede). All of these children, grandchildren and great-grandchildren, along with Papa Dave Altman, celebrate Joyce's entrance in Heaven through the merits of Christ alone.
In 1947, Joyce served as Border Days Rodeo Queen and a Lewiston Roundup Princess. Later she served as Sunday school teacher, Ladies Aid member, and a Blue Bird leader alongside Doris Long of Grangeville. Joyce worked at Park Hill Manor Nursing Home from 1969 to 1976.
When her husband, Dave, retired from Wells Fargo Bank, they both stayed busy with the White Bird gardening and canning produce.
Joyce remained an active member of Trinity Lutheran Church. When poor health prevented her from receiving Word and Sacrament at that church, she gratefully received these gifts through visitations from Pastor Michael Musegades and Deaconess Lorraine Roach. She was always pleased to receive cards, visits, and phone calls while she recovered from a heart attack in June and later valiantly fought pneumonia following a serious fall. The entire Altman family extends its deep thanks to church members and beloved neighbors from other churches, who encouraged her faith in Christ via many actions of compassion and words of kindness. Deep thanks to all medical persons and loving caregivers at Syringa Hospital and Grangeville Health and Rehabilitation. As Joyce would say when anyone gave the blessing "The Lord be with you," so we all now say a joyful, "And also with you!"
The funeral was Tuesday, Nov. 4, at Blackmer Funeral Home, with burial following at Prairie View Cemetery.
In lieu of flowers, gifts may be given to Trinity Lutheran Church, 210 North Mill St., Grangeville, ID 83530.