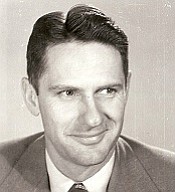 Charles "Bill" William Eimers
Grangeville, Idaho
unknown - unknown

C. William "Bill" Eimers, Sr., 92, of Grangeville, Idaho, passed away Tuesday, Nov. 4, 2014. Eimers was an educator for 36 years and was active in school and community affairs.
Bill was born Nov. 20, 1921, in Grangeville, son of Jake and Rose Hurley Eimers, where he was raised and educated. He graduated from high school in 1940 and from the University of Idaho with a bachelor's degree in 1948 and a master's degree in education administration in 1949.
After meeting at the University of Idaho in 1940, he married the love of his life and best friend, Maxine Grover, in 1944 at Chanute Field, Ill., where he was in the U.S. Air Force. He served in the Pacific Theater during WWII on Guam as a radar specialist on B-29s with the 20th Air Force.
Following his honorable discharge from the service in 1946, he returned to the university to complete his education. He taught and coached in Lewiston High School 1949-1951 and at the U. of I. in 1951-1952 before returning to Grangeville where he taught, coached athletics and was principal of the high school from 1960 until 1976. That year he moved to the district superintendent's office as assistant superintendent, becoming superintendent of District 241 in 1977 until his retirement in 1984.
Bill enjoyed coaching and working with young people and particularly his basketball teams where they gained respect in central Idaho and the state of Idaho during his coaching tenure. He was active in many community and state affairs, having been past president of the Idaho Coaches Association and the Idaho Secondary Principals Association and having a 15-year tenure on the Idaho Interscholastic Activities Board and was elected to their Hall of Fame in 1984 and also the North Idaho Sports Hall of Fame in 1986.
He was a secretary of the Masonic Lodge, Mt. Idaho No. 9, of Grangeville and a member of the Calam Temple of the Shrine. Bill was a longtime member of the Lions Club, the Elks Lodge No. 1825 and the Veterans of Foreign Wars Post No. 3520. He announced the parades and street sports for 30 years during the 4th of July celebrations in Grangeville. He was an avid supporter of the University of Idaho athletics and served as president of Vandal Boosters for a term as he was a lifelong member of that organization and attended most of the football and basketball games for many years. His hobbies were: associating with his friends, promoting young people and participating in the sports of golf and fishing and he enjoyed gardening. He was very proud of his family and spent much time with them and traveling since retirement.
Surviving are his wife of 70 years, Maxine, at their home in Grangeville; four sons and their wives, Bill Jr. and Karen of St. Maries, Phillip and Linda of Eden, Utah, Jake and Chandra and Paul and Katy, both of Grangeville; eight grandchildren, Stephanie Eimers of St. Maries, LTCD (Ret.) Karl Eimers and Maureen of Hanahan, S.C., Lauren Eimers-Wangrud and Josh of Salt Lake City, Utah, Jaye Edwards and Steven of Ogden, Utah, Nicholas Eimers of Vancouver, Wash., Megan Eimers of Vancouver, Wash., Molly Eimers of Missoula, Mont., and Anne Eimers of Bozeman, Mont.; and five great-grandchildren, Zachary, Gregory and Angela Eimers of Hanahan, S.C., Olivia Maxine Edwards of Ogden, Utah, and Lou Miette Eimers-Wangrud of Salt Lake City, Utah.
Bill was preceded in death by his parents and brothers, Paul G. and J. Richard Eimers, and one sister, June Ramstedt.
Cremation has taken place and a service will be announced at a later date. The family suggests memorials may be made in his name to the Shriners Crippled Children's Hospital in Spokane, the Grangeville Christian Church or to the memorial of your choice. Blackmer Funeral Home of Grangeville is in charge of arrangements. Send condolences to the family to Blackmerfuneralhome.com.
The family would like to express their profound gratitude to the staff and management of the Meadowlark Homes, to the good doctors and nurses of both St. Mary's and Syringa hospitals and to Syringa Hospice, to Seubert's Home Health Care and particularly to "Col." Connie Workman and all of the wonderful folks who donated their time and caring efforts as Dad's health failed.