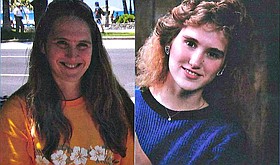 Kimberly "Kim " White
Helena, Mont.
unknown - unknown

On the evening of Nov. 5, 2014, Kimberly "Kim" Ann White, 44, passed away after a valiant battle with brain cancer. Even with her illness, the smile she was well-known for still often graced her face.
Kim White was born in Bend, Ore., on Sept. 25, 1970. She was the first of two children to proud parents, William and Carla Carpenter.
Kim spent her early years in Bend before moving to Grangeville, Idaho, with her family. A studious girl, Kim graduated from Grangeville High School with honors. After high school, Kim went on to study with colleges in Idaho and Montana.
Kim married husband, Dana White, in 2000. She had three children, Ashley Carpenter, Demetrius White and Kenzie White. Kim spent her most recent years as a homemaker and it was by far her favorite job.
Kim loved the outdoors, especially camping, hunting and fishing with family. She enjoyed picking wildflowers and taking family photos. Kim also loved to attend rodeos and holiday festivals. She got joy from traveling, including her trips to various national parks, the Oregon coast and Hawaii. Kim also delighted in playing Bunco with friends and collecting moose memorabilia. She was a member of Our Redeemer's Lutheran Church.
Kim is survived by her husband of 14 years, Dana White; daughters, Ashley Carpenter and Kenzie White; son, Demetrius White; parents, William and Carla Carpenter; brother, Kristian and his wife, Candita Carpenter; grandmother, Grace Carpenter, "grandfather" Jim Stevens; beloved cousins, nieces, nephews and many other friends and family.
Kim was preceded in death by her grandfather, Erwin Carpenter; grandfather and grandmother, Willie and Bernice Smith; "grandmother" Alice Stevens; and Uncle Bill and Aunt Mary Talbott.
A public viewing was held Nov. 9 at Anderson Stevenson Wilke Funeral Home. A celebration of Kim's life was held Monday, Nov. 10, at Our Redeemers Lutheran Church and she was laid to rest at Forestvale Cemetery in Helena.
A memorial fund has been established by friends at Valley Bank in Kim's name for the American Cancer Research Institute.
Memories and well wishes for the family may be delivered to www.aswfuneralhome.com.
The family would like to thank Jess and Jolene Peavey, Zach Worth, Our Redeemer's Lutheran Church and the many friends, family and neighbors who have offered a myriad of support and prayers during this difficult time.