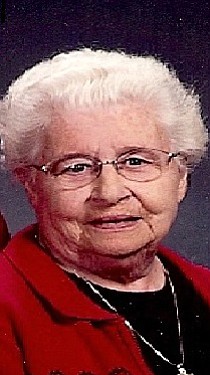 Lois Litchfield
Grangeville, Idaho
unknown - unknown

Lois Litchfield, 84, passed away on Nov. 19, 2014, in Grangeville, Idaho. Lois, also known as "Shorty" by most, was born Oct. 31, 1930, to Golda and Claude Irwin in the Tolo Lake area west of Grangeville. She attended schools in Grangeville, graduating from high school in 1949.
On June 15, 1951, Lois married William "Bill" Litchfield. Lois was a stay-at-home mom to her two daughters, Jill Forth of Nezperce, Idaho, and Diane Haener of Grangeville, Idaho.
Lois enjoyed cooking, gardening, camping and attending old-time dances in the town of Clearwater, Idaho, with her husband, Bill.
After Bill's death in 2004, Lois and Bob McCall developed a very loving and special relationship until his death. At that time Lois moved into Meadowlark Homes in Grangeville. Lois had many loving and caring friends and caregivers at Meadowlark which she considered her extended family.
Lois's greatest joys were her five grandchildren. She loved listening to all the trials, tribulations, pranks and adventures that they each shared with her. She always considered her house Grand Central Station for all the grandkids and their friends. Lois was extremely proud of her seven great-grandchildren.
Lois was preceded in death by her loving husband, Bill; grandson, Tony Haener; loving companion, Bob McCall; and her two sisters, Norma Earp and June Rush.
Lois is survived by her two daughters, Jill Forth (Gerald) and their children, Philip Arnzen (Amanda) of Nezperce, Idaho, Joshua Arnzen (Stephanie) of Craigmont, Idaho; and Diane Haener (Dick) and their children, Amanda Crosby (Chad) of Lewiston, Idaho, and Benjamin Haener of Boise, Idaho.
A private family graveside service will be held at a later date. Services are under the direction of Blackmer Funeral Home, Grangeville.