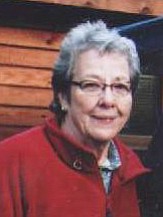 Ellen Bessie Rowan
Harpster, Idaho
unknown - unknown
On July 14, 1935, in Weiser, Idaho, Ellen Bessie Roberts, a two-pound baby girl was delivered at home by the visiting country doctor, to Hop and Myrtle (Hopper) Roberts. Ellen was premature and too fragile to be moved to the local hospital. She spent the first two weeks of her life sleeping in a shoebox bed that was placed on the open door of the wood-fired kitchen oven as a makeshift incubator. She moved from the shoebox bed to a blanket lined dresser drawer as her first crib.
Ellen became the spoiled little sister and the apple of their eyes for her older brothers, Floyd and Dave Roberts. At 6 years of age, Ellen became a big sister to the last of the siblings, Violet June Roberts. Ellen and her family moved between the Weiser, Midvale, Indian Valley and Jacksonville, Ore., areas for much of her young life where her parents farmed and her father often logged. In 1945 the family moved to Crane Creek, Idaho, where her parents managed the Upper Soulen Ranch.
Ellen attended South Crane Creek School through eighth grade and although she didn't have to walk uphill both ways to attend, she did commute by horseback. Ellen graduated from Midvale High School in 1954 and then attended Nampa Business College.
In 1955 Ellen married Philip (Phil) A. Rowan of Powersville, Mo. Ellen and Phil had a non-traditional courting relationship. They began corresponding as pen pals in 1954 when Phil was in Army boot camp and preparing to go to Korea. On a train west from Missouri to Ft. Lewis, Wash., in preparation for deployment, Phil made a stopover in Weiser to meet Ellen for the first time. He later wrote his parents to announce that he had met the girl he would someday marry. After two years in Korea, numerous letters and telegraphs, Phil returned to Missouri long enough to tie up business and head to Idaho to marry his girl. Phil and Ellen were married May 1, 1955, in Midvale and moved to Powersville. When Ellen was near her delivery date with their first child, Lyle, she was very homesick (Ellen actually said she was a terrible "cry baby") for her family and requested they return to Idaho in 1956. They left Midvale area in 1957 and made their longtime home in Harpster, where they remained until her death.
Ellen had a professional career with the state of Idaho working for both Health and Welfare and Job Service. She enjoyed her employment primarily because she took pride in assisting others. However, she always considered her most important jobs in this order: a devoted wife, a loving mentoring mother, a supportive family member, a confident friend and an involved community advocate. She wanted her legacy to be about caring for others. Her love, compassion and thoughtfulness will forever be far-reaching. Ellen never met a stranger; she had a knack in getting to know folks. She wasn't alone in a room of strangers — because in no time, she quickly made friends.
Ellen's Harpster home always had a revolving front door; her kitchen was filled with warm food and love which she shared with all the neighbor kids and classmates of her children. She will forever be remembered for her "amazing hugs." One family friend said: "Ellen was truly the heart of Harpster."
Ellen was an expert seamstress. She loved sewing clothing and quilting projects for her children, grandchildren and friends. Ellen also enjoyed flower gardening and playing Bunco with her neighbor ladies. For 40 years she was devoted to her square dance club and considered her dancing friends her extended family.
Just weeks prior to Ellen's death on Nov. 13, she was diagnosed with advanced leukemia and no treatable options.
Ellen is survived by husband, Phil of 59 years; children, Lyle Rowan (Shala), Joyce Dunning (Dale Dvorak) and Dean Rowan (Trish); grandchildren, Janiece and Justin Rowan, Savannah Thompson, Sarah Clemenhagen, Jennifer Konrad, Monica Schiess, Kent and Garet Bernard, Shasta Luker, Kat and AnnaBelle Craddock; great-grandchildren, River, Jaxton, Colton, Tucker, Elizabeth, Kylea, BryAnn, Jordan, Ford, CharileMae; and new great-grands arriving in January and 2015; her sister, Violet Carey; sister-in-law and brother-in-law, Rowena and Glenn Adams; nieces and nephews, Millie, Gary, Gailen, Floydene and Tim (Floyd), Charlotte, Dennis, Dena (Dave) and Tina (Violet); her two lifetime best friends, Joyce Tuttle and Marjorie Warren; and a treasure trove of friends and relatives who each held a special position in her heart and mind.
A celebration of life will be held at the Harpster Schoolhouse on Saturday, Dec. 13, at 1 p.m. Ellen requested that in lieu of flowers that gifts be made in her name to the Harpster Schoolhouse Community Building. The schoolhouse was of high significance to Ellen -– she was instrumental in saving the building from destruction in the early 1980s and instead getting it refurbished to become the focal gathering place for community events. Donations can be sent to: Nancy Charley, 111 Harpster Drive, Harpster, ID 83552. A private family burial will be held at a later date.