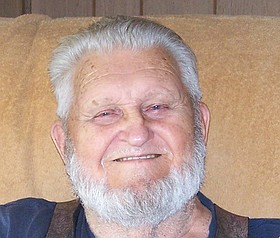 Rolph Gunnar Olson
Elk City Idaho
unknown - unknown

Rolph Gunnar Olson, 91, passed away Nov. 18, 2014. He was born March 10, 1923, at Merced Falls, Calif., to Gunnar and Astrid Olson. The family moved to McCloud, Calif., in 1924. Rolph graduated from McCloud High School, June 6, 1941. He was then drafted into the Army in December, 1942. Rolph served in the U.S. and South Pacific with the 1st Americal Division 182nd Infantry Division in the Philippines and the Occupation of Japan. He received the WWII Victory Medal, Philippines Liberation Ribbon, Bronze Star, Asian Pacific Medal and Expert Marksman Pin. He was honorably discharged at the rank of corporal in February, 1946.
Rolph then returned to McCloud and went to work for the McCloud River Lumber Co. as a timber faller until 1965 when he moved to Elk City, Idaho, and went to work for H.J. Hartman Logging Co.
He married Alice Sorenson Haddon on Jan. 3, 1970. He then went to Alaska with George Hartman Logging and worked for nine months before returning to Elk City. He worked for the Forest Service for two years as a trail supervisor and then went back to logging as a timber faller until 1986. At this time he went to work for Bennett Lumber as a boilerman and later as a night watchman.
Rolph loved to hunt, fish and trap for bobcat and marten. Rolph was a longtime member of VFW Post 8311 and the American Legion in Elk City. He was honored to receive a Quilt of Valor on Veterans Day 2012 from the Sew Help Me Quilters.
Rolph was preceded in death by his parents, Gunnar and Astrid Olson; wife, Alice Olson (Jan. 3, 2009).
He is survived by daughters, Margaret (Rob) Robinson of Elk City, Barbara (Aca) Nash of Lapwai; grandchildren, Ashley Wagenmann of Lewiston, Bryce Robinson of Elk City, Eric Wagenmann of Lewiston; great-granddaughters, Amiya and Elyssa Wagenmann (Lewiston); cousins, Vivian (Lee) Kirkwood of Hope, Carol (Pat) Younglove of Oakland; sisters-in-law, Mae (Omar) Owsley of Eagle, Frances Severson of Twin Falls, Mary Young of Kenai; and numerous nieces and nephews.
Rolph's ashes along with his wife, Alice's, will be spread together at a later date.
A dinner will be held honoring the life and service of Rolph at 2 p.m. on Saturday, Dec. 6, at the Elk City VFW in Elk City .
Trenary Funeral Home of Kooskia, Idaho, was in charge of the arrangements.