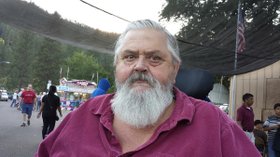 Dewie John Miller
Kamiah, Idaho
unknown - unknown

Dewie John Miller, 67 of Kamiah, Idaho, died Saturday, Sept. 27, 2014, at St. Joseph Regional Medical Center in Lewiston, Idaho.
John was born July 30, 1947, in Redding, Calif., to Dewie Joe and Jean (Haller) Miller.
John was kind, compassionate and a great storyteller. In fact, most everyone smiles and remembers his stories. To his young nieces and nephews (California, Oregon and Idaho) John would tell Big Foot stories. He loved their wide-eyed glances, then he would smile, and they would say, "Uncle John!!!" He loved being uncle to them all.
John worked many jobs including green-chain puller, farm worker, tree planter and more, but his love was trucking, family and his puppies.
John is survived by his wife, Kathy, and many family and friends.
Please join his family for a covered dish dinner and conversation at 1 p.m., Saturday, Oct. 11, 2014, at the Kooskia IOOF Hall. Trenary Funeral Home of Kooskia, Idaho assisted the family.