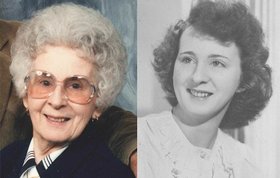 Ora Mae Long
Cottonwood, Idaho
unknown - unknown

Ora Mae Long, 88 a longtime resident of Cottonwood, passed away Oct. 5, 2014, at Meadowlark in Grangeville.
She was born April 16, 1926, at her home in Charlotte County Courthouse, Va., to Martin W. Mason and Lelia A. St. John Mason. She was the second youngest of her 16 brothers and sisters and the last surviving one. She had seven brothers and nine sisters. Ora Mae's mother died when she was very young and she was raised by her older sisters. She grew up helping on the family tobacco farm and enjoyed playing outside, riding bikes and reading. One of her favorite things growing up was getting dressed up for Sunday school and playing with all the kids her age.
Ora Mae moved to Lynchberg, Va., when she was 15 to finish school at E.C. Glass High School and her favorite subject was government. She always dreamed of being a child psychologist. She worked at a local department store and sold dresses, where she made $0.15 an hour. She also worked at another job on the weekends, a restaurant and candy shop. The Air Force base was located close to the restaurant, so the airmen would come to eat occasionally. One airman in particular, came in on a regular basis. One day he walked in and sat down like he owned the place and ordered a milkshake from Ora Mae. She was only supposed to give him one scoop of ice cream because of the hard times, but she gave him three scoops. The airman, Kenneth LaVerne Long, noticed this act of kindness and started up a conversation. It was not too long after, they married on March 31, 1947.
Ken and Ora Mae traveled many places throughout his time in the Air Force. The first place they lived was Fairbanks, Alaska. From there they drove almost 6,000 miles to Long Island, N.Y., getting only one flat tire and Ora Mae was seven months pregnant. Nov. 29, 1951, they welcomed their first son, Michael LaVerne. Two years later, they moved to Spokane, Wash., where they had their second son, Patrick Martin.
Even with moving from place to place, Ora Mae always made raising her sons one of her main priorities. They lived in Moses Lake and Curlew, Wash. They even moved to Northern British Columbia, Canada, where it would get to be close to 60 degrees below zero and Williams Lake was 120 miles away. Ora Mae always enjoyed experiencing different cultures. She would exchange home remedies and recipes with other women living on the Air Force Base.
In 1966, Ken retired from the Air Force and they moved to Cottonwood, Idaho. After her sons graduated, Ora Mae became a school aide for Prairie Elementary. She loved working with children. She very much enjoyed living and felt safe in the small town.
In later years she was blessed with five grandchildren, whom she loved spending time with. She always looked forward to them coming by to visit. She enjoyed sharing many of her baked goods, meals and popsicles with everyone, especially her grandchildren. She had fun bowling and babysitting. She loved knitting and crocheting. She made many blankets, sweaters, doll clothes and much more to share with her loved ones. Every night before bed she would write of the day's events in her diary.
Ora Mae is survived by her sons, Michael Long (Roz) of Lewiston, and Patrick Long (Sheila) of Cottonwood; her stepson, Ron Long (Gloria), Moscow; grandchildren, Corey Long (Rachel), Brandy Fiorenza (Matthew), Ashle Long, Briget Forsmann (Shawn) and Chelsea Long; great-grandchildren, Mariska and Mason Long, Dylan and Spencer Fiorenza and Brylie Forsmann. Ora Mae was preceded in death by her husband, Ken Long.
There will be a viewing from 8-10 a.m. Thursday, Oct. 9, at Uhlorn Funeral Home, followed by a graveside service at 11 a.m. at the Cottonwood Community Cemetery.