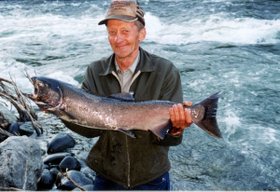 Robert C. Herman
Pollock, Idaho
unknown - unknown

Our much loved husband and father, Robert C. Herman, 81, passed away peacefully at his home on Monday, Sept. 22, 2014, with his family providing him care and support. Robert was born Oct. 15, 1932, to Ammiel B. and Ruth Herman on the Indian Creek Ranch above Pollock, Idaho.
After attending school at Brushy Flat School in Riggins, Robert began working with his dad and his brother as a sawyer using a crosscut saw at age 17. He had the opportunity to work many different jobs throughout his working career, which included not only a sawyer in the woods but employment for the state of Idaho spreading sand by hand on slick roads and operating a jackhammer, working in the Riggins mill on the planer and as a boiler operator, working on a ranch, and working as a ski lift operator at the Brundage Mountain Ski area.
Robert married Loretta Wilson on May 25, 1952, and began a marriage that lasted just over 62 years.
Robert is survived by his wife, Loretta; his daughters, Rita Herman and Vickie Sears along with Vickie's husband David Sears; seven grandchildren; and eight great-grandchildren with a set of twins expected in March.
He was preceded in death by his son, Clifford Herman; brother, Jack Herman; his parents, Ammiel and Ruth Herman; and his niece, Leona Bollar.
A celebration of his life will be held graveside at the Riggins cemetery on Saturday, Oct. 18, at 1 p.m. (MST).