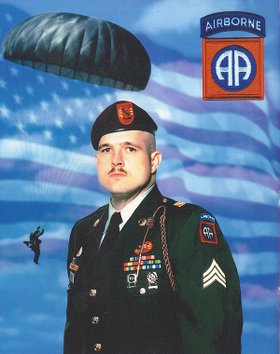 SFC Cameron M. Shoemaker
Shaw Air Force Base, South Carolina
unknown - unknown

Cameron M. Shoemaker, Sergeant First Class/E7 of the Active Army, passed away Sept. 23, 2014, at his home in South Carolina. SFC Shoemaker was stationed at Shaw Air Force Base, S.C.
Cameron was born on Jan. 12, 1974 in Lewiston, Idaho. He grew through his grade school years in Craigmont and graduated high school from Salmon River High in Riggins in 1992. SFC Shoemaker joined the Army in 1995 and spent the next 19 years in many places around the world — Hawaii, Kosovo, two deployments to Iraq, Afghanistan, Korea and Ft. Bragg, N.C.
Cameron is survived by his wife, Ashley; and son, Connor; also by his twin sons, Caleb and Colton from a previous marriage. Additional family is his mother, Ruth Kern; father and stepmother, Bruce and Cheryl Shoemaker of Riggins; and three brothers, Matt, Jared and Aaron. Finally, an extensive extended family and world of friends will always miss him. Rest in peace, Cameron.
A memorial service will be held Oct. 18 at 11 a.m. (MT) at the Salmon River Community Church in Riggins, Idaho.