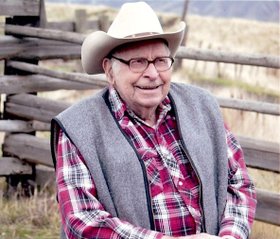 Joseph "Joe" P. Wilson
White Bird, Idaho
unknown - unknown

The Salmon River Canyon lost a dear friend, loving father and grandparent, when Joseph Preston Wilson, 96, passed away at his home on Slippy Creek outside of White Bird on Tuesday, Oct. 7, 2014, surrounded by family.
On May 3, 1918, Joe was born to Victor and Mary Wilson in Richland, Ore., living there until he was 10 years old. In 1928, his parents moved Joe and his seven brothers and sisters to Pollock, Idaho, where he attended school at Brushy Flats and met his lifelong love, Adelaide (Ada) Gotzinger.
Joe and Ada married on Dec. 27, 1934, in Grangeville, Idaho. Together they had four children, Loretta Jean Herman (Robert, deceased) of Pollock; Rita Josephine Roakey (Dean) of Riggins; Forrest Galen Wilson (Joyce) of White Bird, and Judy Ann Dillon (John, deceased) of Lewiston. Joe was preceded in death by his parents; his wife of 77 years; his sons-in-law, John Dillon and Robert Herman; two sisters, Erma Guyer and Lois Britton; and brothers, Fred, Lester, Edward and Harold. He is survived by his sister, Anita Evelyn Smith; his four children; 11 grandchildren; 20 great-grandchildren and 10 great-great-grandchildren; along with many nieces and nephews.
Besides enjoying a good laugh and telling stories, Joe was a hardworking man, living a full life that included mining, ranching, serving his country, building roads for the Forest Service, and together with Ada, operated a successful outfitting business until retiring in 1980. As a miner, he worked in Idaho, Oregon and Nevada. World War II came along and Joe joined the Army, serving two years in the South Pacific, 8th Field Artillery, 25th Division. Returning home from the war, Joe moved his family to Pollock, and then in 1952 to the home on Slippy Creek where both he and Ada ranched, ran cattle and lived for more than 60 years. They also had a cabin in the Nez Perce Forest at Adams Camp for more than 40 years, where Joe, Ada and the kids loved to spend their summers.
The family really appreciates the kindness of the Syringa Hospital Hospice staff that provided excellent, helpful and caring assistance during the last few months of Joe's life. Donations in the memory of Joe Wilson can be made to the Syringa Hospital Hospice, 607 West Main St., Grangeville, ID 83530.
The family invites everyone who knew Joe to attend his celebration of life memorial service at 1 p.m. (PST), Saturday, Nov. 1, at Hoot's Cafe, White Bird.
Arrangements are with Blackmer Funeral Home, Grangeville.