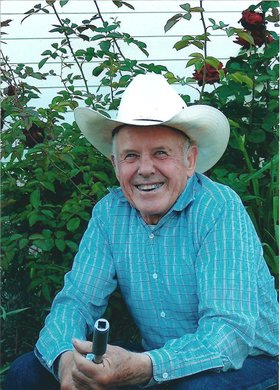 Earl "Jack" Sotin
Lewiston, Idaho
December 21, 1920 - August 26, 2014

On Dec. 21, 1920, Earl Howard Sotin was born in Orofino, Idaho. His parents were Flora B. (McEvers) and Alfred M Sotin. His early years were spent in the Orofino area, and due to family circumstances he was on his own at the age of 9. At that age, he walked to a neighbor's ranch and asked if he could live and work there as long as he could go to school. As he moved from ranch to ranch, he would attend various schools, participated on the high school boxing team at Lapwai and graduated from Asotin High School in 1939.
After graduation he worked various jobs in central Idaho. On July 28, 1943, Jack and Esther Griner were married in Grangeville, Idaho. Jack and Esther started their married life together in Glendale, Calif., with Dad working at Lockheed as crew chief for "Rosie the Riveters" building P38 fighter planes. Their first child, Jack W. Sotin, was born in 1945. In 1946, they moved back to Idaho and bought a small ranch near Clearwater, Idaho.
Daughter, Linda M. Sotin, was born in 1948. Son, Richard L. Sotin, was born in 1954, and youngest daughter, Shirley S. Sotin, was born in 1957.
Jack worked for Folden's Sawmill, later at Scott Sawmill which became Idapine Mills in Harpster. During the early '60s, Dad started building a new home for us which we moved into in 1966. In 1967, Dad changed careers and went to work for the Job Corps Center at Cedar Flatts on the Selway River as a training supervisor. When Cedar Flatts closed, he transferred to the Cottonwood Job Corps Center as a carpentry training supervisor. During this time he supervised a crew from the Job Corps and built the Dry Diggins Lookout in the Seven Devils. He led several crews doing construction throughout the Nez Perce Forest District. In the mid '70s, the Cottonwood Center closed so Dad transferred to the U.S. Forest Service working at Fenn Ranger Station doing construction and maintenance work at the ranger station and Moose Creek. He retired in 1983.
During this whole time, Dad and Mom raised Hereford cattle at the ranch and provided a lifestyle that we now cherish. After retirement they were able to take several road trips going to Mt. Rushmore and the Black Hills, Alaska and Yellowstone plus one Caribbean cruise and two Hawaii cruises.
Jack was an active member in the Clearwater Baptist Church serving as a Sunday school teacher, youth leader and deacon. In 2005, Jack and Esther sold the ranch and moved to Lewiston to be nearer their kids and attended Tammany Baptist Church.
Dad's health declined during the past year, and he passed into the arms of Jesus on Aug. 26, 2014.
Survivors are his wife of 71 years, Esther; son, Jack (Sandi) Sotin; daughters, Linda (Gary) Keener and Shirley (Randy) Squires; nine grandchildren; 22 great-grandchildren; and 11 great-great-grandchildren; brother, Robert Hazelbaker; sister-in-law, Bernice Sotin; and many nieces and nephews.
He was preceded in death by son, Richard Sotin; and brothers, Lewis Sotin and Larry Sotin.
A celebration of life service was held at the Clearwater Baptist Church in Clearwater Saturday, Aug. 30.
We want to especially thank Pat Fowler and the team of care providers at Living Springs Residential Care. You were a blessing to Jack and to the family.
Arrangements are by Trenary Funeral Home of Kooskia, Idaho.