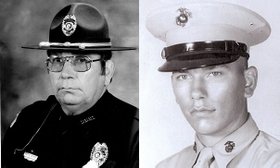 Willie Roy Dickey
Grangeville, Idaho
March 2, 1939 - August 25, 2014

Willie Roy Dickey, 75, was born on March 2, 1939, in Newington, Ga., to Martin L. and Virginia Pauline Smoak Dickey. He enlisted in the U.S. Marine Corps on his 17th birthday and made the Marines his home for 28 years, retiring in June 1983. In October of 1965 he married Joyce Brady and they had two daughters, Deanna Suzie Dickey and Stacy Dickey Remacle. While in the Marines he was stationed in many places in the states and overseas. He served in Vietnam where he won a silver star, Purple Heart and many other awards. He was proud of his time in the Corps.
After retirement from the Marines he went to work for the Department of Corrections in Idaho where he chose to live. After 13 years with the department where he worked as a sergeant, he retired due to his health.
He is survived by his wife, Joyce; his daughters, Suzie Dickey and Stacy and her husband, Glenn Remacle; four grandchildren, Samantha, Lane, Josie and Callie; his brother, Jack Dickey of Bamberg, S.C.; and his sister, Dorothy Duckett of Barnwell, .SC. He was preceded in death by his parents and a sister, Marie Frownfelter.
He was very proud of his grandchildren and of his service to his country. He always felt, "Once a Marine always a Marine." Puttering was an enjoyment that kept his tools in perfect order. Calling KORT to request a certain song was also a favorite pastime.
He was cremated and a private memorial service will be held at a later date. He left us on Aug. 25, 2014, and we will miss him.
Arrangements are under the direction of Blackmer Funeral Home, Grangeville.