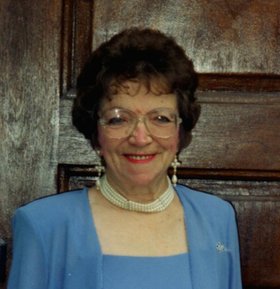 Betty Mae (Stowers) Evans
Lewiston, Idaho
September 23, 1940 - September 4, 2014

Betty Mae (Stowers) Evans, 73, died Sept. 4, 2014, in Lewiston, Idaho. She was born to Millard Kenneth Stowers and Jessie Eva (Elrod) Stowers on Sept. 23, 1940, in Gainesville, Ga. Betty's mother passed away from complications of her birth. Betty was raised by her grandmother until the age of 7, when she moved to Idaho with her father and stepmother. She graduated from Grangeville High School in 1959.
Betty married Daniel Lee Axtell on Aug. 22, 1962. They had one child, Shelon Louise (Shelly), and they were divorced in 1968. Betty married Virgil Hale Evans on Sept. 6, 1969. They had one child, Clinton Hale. Betty and Virgil were married 44 years.
Betty considered herself "the Jack of all trades, master of none" as she worked many different jobs through the years, ranging from nurse's assistant at the Grangeville Care Center, cook and waitress, secretary at Lewis Clark Motors, Avon sales rep and daycare owner. She enjoyed square dancing, decorating wedding cakes, sewing, canning, her grandchildren and nieces and nephews. She was actively involved in the Lewiston Junior Miss program, serving as their chaperone for many years, and served as a host family for the Lewis Clark State College Foreign Exchange Student Program, housing many foreign exchange students through the years.
Betty is survived by daughter, Shelly Chappell of Bainbridge Island, Wash.; son, Clint Evans of Clarkston, Wash.; seven grandchildren, Justen (Alexsys) Chesnut of Poulsbo, Wash., Jarica Chesnut, Marissa Chappell of Bainbridge Island, Wash., Lauren Evans, Savanah Evans, Rebecca Evans all of Lewiston, Idaho and Skyler Evans of Clarkston, Wash.; four great-grandchildren, Linken, Declan, Orian and Rylie all of Lewiston, Idaho; brother, Ray (Freda) Stowers of Riggins, Idaho; half-brothers, David (Loretta) Stowers of Lewiston, Idaho, Jerry Stowers of White Bird, Idaho; half-sister Sue Ervin-Adkinson of Cordova, Alaska; stepsisters, Irene Gill of Grangeville, Idaho, Bonnie Hibbs of Winchester, Idaho; many nieces and nephews and other family and friends.
Betty is preceded in death by her loving husband, Virgil Evans; her mother, Jessie; father, Kenneth Stowers; brother, Ralph Stowers; half-brothers, Harry Stowers and Roy Stowers; stepmother, Elizabeth Johnson; and stepfather, Everett Johnson; and niece, Charissa Ervin.
In lieu of flowers, memorial donations may be given to the Lewiston Jr. Miss Scholarship fund or the Foreign Exchange Student scholarship fund at LCSC in Betty's name.
Services will be held at 2 p.m. on Saturday, Sept. 13, at Mountain View Funeral Home in Lewiston with a reception to follow. Pastor Mark Brewster will officiate. All are welcome to attend and celebrate Betty's life. To share photos and stories please use the online guestbook at www.mtviewfuneralhome.com.