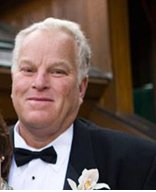 Allen Hutson
Elk City, Idaho
unknown - unknown

Allen Hutson, 61, died suddenly on Sept. 5, 2014, near his home in Elk City, Idaho.
The third child of Chandler and Dorothy Hutson, Allen Carl Hutson was born on May 2, 1953, in Torrance, Calif. His family moved to Grass Valley in 1959. Allen attended local schools, graduating from Nevada Union in 1971, and attended Sierra College.
As a young man, Allen worked with his father at Hutson Construction Company, eventually getting his own contractor's license and building locally. He loved working as a chain monkey during the Sierra snowstorms and eventually worked for Cal Trans during the winters. Through the years he also established Sierra Nevada Radiator Shop and founded Chapel of the Angels Mortuary, becoming a licensed funeral director.
In 1979, Allen married Kim Hansen. They had two children, Nathan and Schandelle.
Allen married Karen Roberts in 1991. In 2010 they moved to Elk City, Idaho. They also had a home in Bocas Del Toro, Panama, which Allen built. Allen loved teaching the locals new skills and spending time with his extended Panamanian family. He also loved introducing his American friends to life in Panama.
Allen was a master mason and a member of Madison Lodge #23. He liked to hunt with his friends and enjoyed fishing. He enjoyed restoring old cars. He loved his ranch. Most of all, he enjoyed helping others, using whatever skills he had to make their lives better.
He is survived by his wife, Karen; son, Nathan (Brittany) Hutson of Grass Valley; daughters, Schandelle Hutson of Penn Valley and Laura Roberts of Dover, N.H.; brother, Bobby (Joni) Hutson of Truckee; and sister, Pat (Don) Tremewan of Grass Valley; and numerous nieces, nephews, aunts and uncles.
He was preceded in death by his parents, Chandler and Dorothy Hutson.
A celebration of life will be held at a later date. Memorial donations should be made to the charity of your choice.