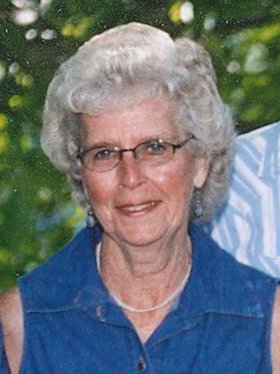 Helen (Lustig) Huntley
Cottonwood, ID
unknown - unknown

We loved our mom and she loved you. The gates of Heaven have opened and the angels helped her through.
Helen (Lustig) Huntley, 83, passed away Tuesday, Sept. 23, 2014, at Life Care Center in Lewiston, Idaho. Helen was born to Tony and Elizabeth (Riener) Wessels on April 19, 1931, in Greencreek, Idaho. She attended 12 years of school in Greencreek. She married Lambert Lustig on May 3, 1950. Together they raised nine children on the Lustig farm.
Later, she married Dawn Huntley on June 19, 1991. They enjoyed a special trip traveling to Kansas to see where her parents were born.
She is survived by her children, Randy (Sally) Lustig, Moses Lake, Colleen (Doug) Head, Clarkston, Steve (Michelle) Lewiston, Lorrie (Pat) Keuterville, Dan (Edie), Grangeville, Doug (Karen), Cottonwood, Vic (Teresa) Cottonwood, Matt (Kateri) Emmett, Carie (Natalee) Seattle; 31 grandchildren and 22 great-grandchildren; her brother, Jerry Wessels of Hamilton; and her sister, Vera Schumacher, Greencreek.
She was preceded in death by husbands, Lambert Lustig and Dawn Huntley; and grandson, Logan Lustig; her brothers, Ernie, Louis (killed in a childhood accident), Clarence, Dick, Fred, Joe; and sister, Anna Marie Schumacher.
Mom taught us a lot about life, a lot about work and a lot about love. Helen enjoyed her grandchildren and great-grandchildren. She enjoyed gardening, playing pinochle with her friends, sewing, baking, cooking, fishing and her pride and joy was her perfectly green yard. One of her greatest joys was sharing her cookies with anyone who wanted one. She drove school bus, worked at the Mini Village, Cottonwood Foods, Archie's Cleaners (doing mending and tailoring) and volunteered at the hospital. Most of all she enjoyed all her customers and co-workers. Later on Dawn and Helen enjoyed delivering the Lewiston Morning Tribune. As many of the locals remember, Helen loved to walk many miles around town. A special thanks to all the people in the later years who stopped, visited and turned Mom around or helped her get home. Also thank you to the doctors and staff at St. Mary's Hospital, Wedgewood, and Life Care for caring for her.
Funeral arrangements were taken care of by Uhlorn Funeral Home. Rosary was held Friday, Sept. 26. The funeral was Sept. 27 at St. Mary's Church in Cottonwood.
In lieu of flowers, please send donations to St. Gertrude's Museum.