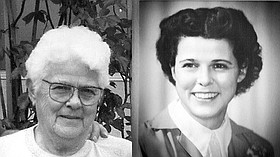 Bernace LaMoyne Wolcott
Cathlamet, Wash.
November 13, 1919 - March 8, 2015
The loving, kind, wise, intelligent matriarch of our family, Bernace LaMoyne Gillett Wolcott, 95, joined our Lord on March 8, 2015. She was born Nov. 13, 1919, in Boise, Idaho, to Roy Albert Gillett and Caroline Effie Gillette Gillett. She graduated from Grangeville High School in 1940 while working as the school librarian, her education having been disrupted by numerous family moves during the depression era. She and Calvin Wesley Wolcott were married May 23, 1940, at her parents' home in Grangeville, Idaho. They were destined to be together as each of their direct ancestors came to America on the ship Mary and John in 1630. Bernace and Calvin made their first home on the Wolcott family ranch near White Bird, Idaho. She and Calvin raised their four boys on the ranch and later in Lucile and Riggins, Idaho, before moving to Cathlamet, Wash.
In addition to her amazing parenting skills and wisdom of life, she was a professional cook in restaurants in Riggins, Cathlamet and Reno, Nev. They lived near Orofino, Idaho, for a period of time close to their son, Jim and his family. Following retirement she and Calvin spent several winters in Arizona with Calvin's sister, Doris, and her husband, Floyd. The summers were spent in the northwest visiting their children and grandchildren and fishing the Buoy 10 fishery. The snow birding years ended with their settlement in Cathlamet in the early 1990s where she lived until her death. While in Cathlamet she volunteered at the Helping Hands Food Bank for 17 years, retiring at age 91.
She was preceded in death by her husband, Calvin; her son, Donald Jay Wolcott; her parents, Roy and Caroline Gillett; her brother, Roy D. Gillett; her sister, Phoebe Eleanor (Peggy)Gillett Loster; her granddaughter, Jeralee Bernace Wolcott.
She is survived by her sons and daughters-in-law, John (AdaAnne), Jim (Petey), Jerry (Joanne); daughter-in-law, Beckie; 14 grandchildren, 31-1/2 great-grandchildren; three-and-one-half great-great-grandchildren; her sister-in-law, Doris Hoelker; her brother, Evan; and numerous nieces, nephews, cousins, many friends and her faithful companion, Bibs, the cat. Her wisdom and compassion will be deeply missed by her family and friends.
Bernace was a member of the Cathlamet Seventh Day Adventist Church. Inurnment will be at 11 a.m. June 27 at Greenwood Cemetery in Cathlamet, Wash., followed by a celebration of her life at the Olsen Ranch at mile post nine on the Elochoman River Road for friends and family. Her wishes were for any donations and contributions be made to Helping Hands Food Bank, P. O. Box 12, Cathlamet, WA 98612.